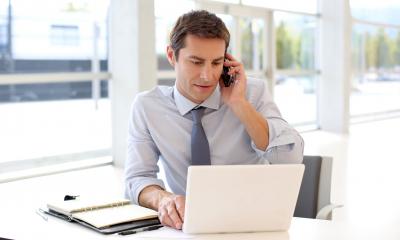 Gone are the days when an internet connection was optional for businesses. You need a fast, reliable business internet connection to do everything from sending email to managing your website.
What's more, increased use of cloud computing - services accessed online - means your business may be more dependent than ever on its fast connection.
Types of broadband internet connection
There are lots of internet service providers (ISPs) offering a range of internet connection options. The most common are:
1. Fibre broadband
With fibre, your broadband connection is supplied via a fibre optic cable.
Fibre optic cables are faster and more reliable than the copper wires used to deliver other types of broadband, like ADSL (see below).
There are two types of fibre connection:
Fibre to the cabinet (FTTC). With this type of connection, a fibre cable runs from your local telephone exchange to a green cabinet on your street. Your premises are connected to this cabinet by a standard copper telephone line.
Fibre to the premises (FTTP). With this type of connection, the fibre cable comes right into your office or building. Because fibre cables allow for faster connections than copper, FTTP connections generally offer higher speeds.
In the UK, many providers offer FTTC services. The main provider of FTTP is Virgin Media, although it's also available from some other companies.
Fibre isn't available in all parts of the UK, although telecoms firms are making an effort to roll out the technology more widely.
If it is an option in your area, fibre is almost certainly worth considering. It's likely to become the standard for businesses in areas with coverage.
2. ADSL broadband
ADSL is supplied down the standard copper telephone line that connects your business premises to the local telephone exchange.
Connection speeds can vary considerably with ADSL, depending on how far you are from the local telephone exchange.
ADSL is adequate for many companies with fewer than 20 employees and offers reasonable value. However, given that fibre often only costs £5-£10 more each month, it's probably the better choice - if it's available in your area.
Sam Knows can tell you what connection types and providers are available to you.
Choosing your broadband internet connection
As you investigate your connection options, you'll find that business ISP services can differ considerably. Answering these questions will help you identify the best:
What speed do you need? You'll need a fast internet connection if lots of people will be sharing it. Speeds are measured in megabits per second (Mbps). 8Mbps is typical for an ADSL connection, but some fibre connections offer speeds in excess of 150Mbps.
Do you need to upload large files? Most internet connections allow you to download (receive) information faster than you can upload (send) it. If you frequently upload large files, you'll need a fast upload speed too. Many cloud computing services require decent upload speeds.
Will you be running services from your connection? If you plan to host your company website on a server within your business or manage your own email server, check your business ISP supports this.
Read your business ISP's small print carefully. Notably, connection speeds can vary depending on the distance between your premises and the local telephone exchange - yet many ISPs only quote the best case speed.
Cheaper packages also tend to limit how much data you can transfer each month.
Many business ISPs offer optional extras, like email addresses or inclusive telephone calls. While this can save money, be wary of relying on one provider. For instance, if one business ISP supplies your telephone and internet connection, a problem could cut you off completely.
Other business internet connection options
If you're a larger company, or have critical requirements - like access to a connection guaranteed not to fail - you may need to consider a leased line. This is a dedicated internet connection which can provide very high speeds and which your business can depend on in all circumstances.
However, leased lines are expensive. BT's leased line charges start from around £195 a month, but prices can go much higher. Leased lines require specialist knowledge to install and configure.
Many leased line suppliers will be willing to customise the service you receive. They may also offer web hosting and other telecoms services.
In any case, seek advice from an IT expert - like your IT supplier - if you're not confident deciding what sort of internet connection to plump for.
Business internet hardware and security
You will probably need additional hardware to connect to the internet. Many business ISPs will supply a router for free. This connects to your phone line, allowing you to share the internet connection. Take security precautions to protect your business internet connection from online threats too.
Finally, remember that the internet can create management issues. Make sure your staff understand what they are and aren't allowed to use the internet connection for, and document this in an IT policy.