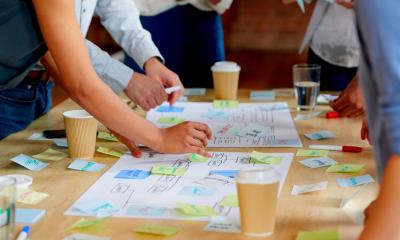 You don't need a big budget to try out online collaboration in your business. These five tools can help you work together – and they won't cost you a penny
Join.me makes it easy to share your screen, presentations and whiteboards and hold webinars with people in different locations so they can see exactly what you see. You can swap presenters, hold a conference call, send documents and share control of your devices.
With Bubbl.us, you can run a team brainstorming session online. You can create mind-maps and bubble diagrams online, then share them with other people across the internet.
Doodle helps you schedule online meetings and get-togethers with ease. You can make information about when you're free available online, and it's designed to work with existing calendar tools like Outlook or Google Calendar.
Google's online office suite was conceived as a rival to Microsoft Office. It has lots of document sharing functions built in, so you can work on a document together with other people in your company. All you need to start using it is an internet connection.
Create a single, online project plan using this handy online tool. Break projects down into individual tasks, assign responsibility and track progress. View status updates and activity reports. Export and share the project plan, analyse progress and identify where your projects are slipping.