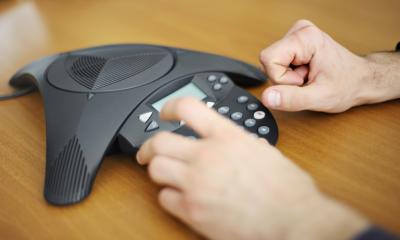 Business conferencing systems enable you to hold meetings between people in different locations. They include conference calling, online meeting spaces and video conferencing, where participants can see each other on screens. Business conferencing can cut costs, as well as making it easier to hold regular meetings and share information.
Is business conferencing for you?
Although business conferencing can't replace every face-to-face meeting, it's particularly useful for:
Inter-office communication. Business conferencing is an effective way to hold regular meetings between people in different offices. It can help improve communication and collaboration, especially where you have people working on a joint project from different locations.
Flexible workers. For instance, if lots of people in your company work from home, it's a good way to hold a catch-up meeting.
Regular client meetings. Business conferencing is a good way to keep clients up to speed, no matter where they happen to be located.
There are some downsides to business conferencing. It is sometimes more difficult to judge someone's body language if you are using a webcam. Without these visual clues, it can be harder to hold constructive discussions, especially between people who haven't had the chance to build a rapport in person.
Effective training and guidelines can help address these issues. But perhaps most importantly, you need to recognise when a conference call or video conference isn't the best forum for discussions - and be willing to make alternative arrangements.
Conference calling
A conference call is the simplest way to hold a meeting between people in different locations. To join a meeting, people dial a specific phone number and enter a code. The conference calling system ensures everyone can hear each other.
There are lots of free and low-cost conference call services and online tools. Most online tools make use of your broadband connection - making calls totally free. These services are good for occasional conference calls and usually allow about 20 people to join a meeting.
Most conference call providers also offer paid subscriptions. You pay a charge (from £10 a month) for cheaper dial-in costs and extra functions like call recording.
Video conferencing
Video conferencing adds cameras and screens so meeting participants can see each other. You can set up a video conference using a webcam, computer, smartphone or tablet, the appropriate software and an internet connection. Skype is included with Office 365 (and available standalone) and it allows you to hold free voice, video and group chats across the internet. It also allows you to send instant messages and make low cost national and international telephone calls making it ideal for informal or unscheduled team meetings.
The quality of any video conference will vary depending on the quality of your webcam and the speed of your internet connection. The built in webcam on your computer or mobile device should be adequate.
Web conferencing
Web conferencing involves a combination of technologies. Rather than dialling in by telephone, meeting participants connect to an online meeting place using their computers. This allows everyone to talk to each other using headsets connected to their computers.
Most web conferencing systems also let you share your desktop, show presentation slides, store documents and resources that participants can download and allow participants to communicate by typing messages.
Web conferencing is good for giving presentations or training. As it allows meeting participants to share data while they meet, it's also a good tool for effective online collaboration. As with conference calling, there are a number of cheap and free web conferencing services you can try.