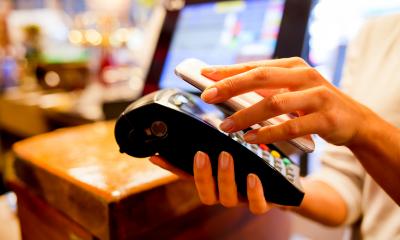 If you've recently been in a queue waiting to pay for your groceries, it's possible you will have spotted someone ahead presenting their smartphone to the Chip and Pin terminal instead of a credit card. Contactless payments are fast becoming the standard method of paying for goods and the tools used by consumers have extended far beyond bank-issued plastic. Ralf Ohlhausen, Business Development Director of PPRO Group takes a look at the options
A day in the life of mobile payments
Consider the typical day of a modern worker. They'll likely eschew the physical wallet for their smartphone, considering the latter a 'hub' for payments in 21st century life. That means a trip to their favourite coffee shop in the morning with the usual cappuccino paid for via a branded app, the subsequent parking fee sent via RingGo and, later that day, dinner with friends settled with a simple tap of the phone on the local pub's Chip and Pin machine.
Contactless payments are starting to dominate everyday life, and for good reason; they are incredibly convenient.
Death of the chequebook
Rewind ten years and, aside from cash, the main payment method was a credit card that required the customer to physically identify themselves by either signing a receipt or entering a 4-digit passcode. Go back further, and cheques were commonplace in all walks of life.
As payment and security technology has developed over the years, the need for a signature has largely decreased. A case in point is the venerable chequebook, whose death knell sounded in 2011 when, following a decline of 13% to 5% of cheque usage on the high street within just seven years, retailers finally banned that method of payment.
Chip and Pin subsequently proved itself to be a much quicker and more convenient way for customers to pay for goods.
The rise of contactless payments
Chip and Pin was just the start. The payment industry has continued to create innovative, customer-facing tech that makes it easy for customers to spend their money. The most obvious example of this is the introduction of contactless payment cards in 2011. While Chip and Pin still plays a seminal role, we are now seeing an increasing number of retailers embracing contactless technology.
Visa cards were responsible for three billion contactless transactions made on the continent in the last 12 months, which is nearly triple that of the same period in the year previous.
The culture of convenience
We live in a world where consumers have increasingly busy lifestyles, more distractions than ever and conflicting demands. As a result, they have a desire for ultimate convenience when shopping and mobile payments are specifically designed to satisfy this need.
By 2025, it is predicted that 65% of all transactions will be settled via smartphone and it's easy to see why with big brands and retailers increasingly embracing contactless, mobile payment devices and apps. Such technology is seen as a way to foster loyalty and increase the convenience of the shopping experience.
For example, Edgar, Dunn & Company has revealed that 74% of respondents to a recent survey believed large retailers will continue to move away from traditional point of sale (POS) terminals to those of the mobile variety.
The danger of disparate mobile payments
Clearly, brands and retailers need to prepare for the uptake of mobile payment methods by consumers, but there is one critical factor they need to be mindful of. Unless there is consolidation and prevalence of a preferred method of payment, consumers will soon find their smartphones littered with payment apps for different stores and banks.
Imagine the frustration caused in a queue as a less tech savvy customer frantically scrolls through their list of apps to find the store's own or the embarrassment on their behalf should their battery run out at that crucial moment.
How retailers can consolidate their use of mobile payments
Retailer-specific apps should be built on the foundation of a standardised payment technology if their customers are to remain intent on continually using them, but the app should offer further benefits. These could be the ability to collect loyalty points, visibility of upcoming deals or targeted marketing which enables retailers to present customers with relevant product recommendations based on prior buying habits.
Thankfully, there are platforms which allow retailers to consolidate their offerings. Well-known German retailers Alnatura, Aral and Galeria Kaufhof have done this successfully by building into their apps support for a new loyalty system called Azpiral (formerly Payback). This enables consumers to collect points and use them to pay for purchases at the aforementioned stores. This is all done via a single app that can be downloaded from the Apple App Store or Google Play.
Accepting contactless payments
Customers can use contactless to pay for amounts up to £100 from 15 October 2021 (previously £45) without verification (or higher amounts with customer verification such as a passcode or fingerprint) providing you have a contactless-enabled payment terminal.
Offering contactless payments to your customers makes the process of purchasing and paying for goods or services quick, convenient and secure for both you and your customers. However, you will need an account with a card acquirer (if you don't already accept card payments) and a payment terminal capable of accepting contactless payments if you are to offer contactless as a payment option.
UK Finance has produced a free, practical guide to contactless payments for retailers. It provides an introduction to:
contactless technology and devices
providing the best customer experience
accepting contactless payments
staff training
the benefits of contactless payments
Download Guide for retailers: accepting contactless and higher value contactless payments from the UK Cards Association website.
Summary
The retail landscape in the UK is changing with disruptive technology like contactless payments and NFC (near field communication)-equipped smartphones and smartwatches empowering customers and increasing their expectations of how retailers will serve them.
There are a number of challenges retailers will need to overcome in order to make the most of mobile payments, but the benefits of this technology are clear. The retailers who incentivise customers with loyalty programmes and special offers and underpin their apps with a standardised payment platform such as Android Pay or Samsung Pay, are the ones who will ultimately win.