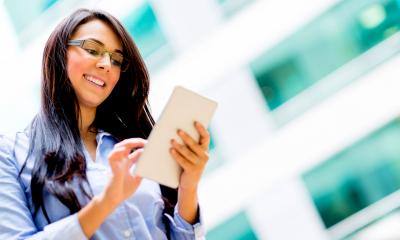 Working flexibly, whether on the road or homeworking, has become a fact of life for many employees and freelances. But what are the IT challenges facing today's mobile workforce and how can the business support them on and off the premises?
Smartphones, laptops and tablet computers are now considered essential tools for mobile workers. If you haven't already provided your mobile workers with one of these devices, chances are many of them will already own one. So your business won't always have to supply workers with these devices – providing you're happy for them to use their own kit.
For managers, the bigger issue is making sure individuals working on the road or remotely are connecting to the business, and sharing and receiving data easily and securely.
Make access easy for your mobile workforce
Day-to-day, mobile employees probably need access to the same systems as their office colleagues. So, for example, your business email system should work across more than one platform and be cost-effective.
"Microsoft 365, IMAP (internet message access protocol) and Google all offer email formats that look the same wherever they're accessed - on phones, laptops and office PCs," explains Robert Davies, founder of web-support business, Kashiko.
These options are very affordable for small businesses and some - such as Gmail, Google's email system - are free.
Beyond email, mobile workers will need to view, upload and download documents and other forms of data. Web- or cloud-based services such as Microsoft 365 and Dropbox allow businesses to share and synchronise files easily and at minimal cost – sometimes, even for free.
Keep IT support costs down
IT software licences can be expensive, but the cost has reduced dramatically thanks to the prevalence of software as a service (SaaS) platforms. For example, Microsoft 365 costs around £8 per user, per month.
Like all cloud services, the point is to enable employees to access data without high infrastructure costs for the firm. Businesses can save money or invest in other areas rather than spend vast sums buying, renting and maintaining their own servers.
Virtual private networks (VPNs), meanwhile, are fast becoming outmoded. Craig Sharp, managing director of West Midlands based IT-support provider, Abussi, is adamant: "VPNs are complicated to set up and require lots of hand-holding. There's a place for them in larger organisations, but smaller companies are better off with web-based solutions which can grow with them."
Security considerations for mobile workers
Even though IT support has successfully transitioned to the cloud, there are still security issues to consider in the physical world. Protecting hardware and company files is a major concern for smaller companies that, unlike corporations, do not have the benefit of large contingency funds.
Passwords to secure your employees' equipment and data are an obvious first defence. Make sure smartphones are set up to erase content should they be lost or stolen and encourage the use of any biometric security features that are available (e.g. fingerprint scanners or facial recognition). Consider encrypting all the firm's devices so that access is gained only by plugging in encoded USB sticks or biometric access.
Office networks can be protected too by blocking wireless access to mobile devices when used on site. Meanwhile, your IT policies should spell out procedures to keep office equipment secure.
Help your mobile workforce
Security extends beyond laptops, tablets and smartphones. Codegate, a firm specialising in mobile computing solutions, has developed track-and-trace software which allows businesses to monitor and log the location, status and progress of staff and jobs in real time.
"Ensuring staff are working safely and efficiently means you can keep tighter reins on costs. Supporting your workers supports your business," concludes chairman, Terran Churcher.