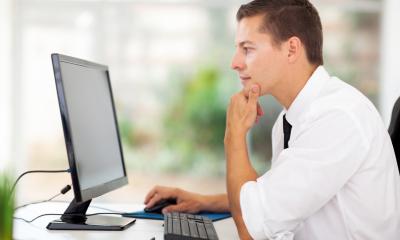 When you think of business IT support, it?s probably in the context of fixing things when they go wrong. Indeed, the main reason most companies invest in IT support is so they have somewhere to turn in the event of problems.
Make business IT support part of your strategy
However, making provision for good business IT support should be a real priority in your company, because your whole business may depend on it. It can play a key role in your success - or failure.
For instance, if you operate an ecommerce business, downtime means lost revenue - so providing effective support for the site could make the difference between success and failure.
Good business IT support is about more than just repairing faults. It can include functions like performing preventative maintenance on your IT systems, offering IT training, managing cloud backups and installing new IT equipment.
And because unplanned support can be expensive (have you ever tried to call out an IT expert to fix a serious problem at short notice?), it pays to treat IT support as an integral part of your business strategy. Consider how you will support IT alongside your overall plans for disaster recovery - especially if your business would be lost without its IT systems.
That way you can plan properly, set a realistic support budget, prioritise the most important areas and anticipate future needs. You can also look at past performance to evaluate whether the way you support IT works in practice.
IT support requirements and costs
To decide how to support IT, you need to build a set of support requirements. These should be aligned with your business plan, so make sure the people working on your IT support requirements have full understanding of your objectives so they can understand what the implications for your IT systems are.
There are two main ways to support IT in your business:
Provide support internally. This option is usually best for larger businesses, with the resources to recruit dedicated IT support staff.
Outsource support. You can outsource IT support to another company, who can provide both proactive and reactive support for your business.
If your company doesn't have a great deal of in-house IT expertise, outsourcing is likely to be the easiest way to provide effective business IT support. However, often a mixture is best. Perhaps you can find a way to provide basic IT support within your company, then turn to an external supplier when required. Balancing internal and outsourced support can also be a way to keep costs down.
The salary for a full-time member of IT support staff could be anything from £26,000 - or significantly more for an experienced systems administrator. Outsourcing small business IT support typically costs from £50 an hour or £250 a month - it's not always cheap, but, like insurance, it can save your business from larger losses if disaster occurs.
Review your IT support regularly
As your business changes, so will your IT support requirements. It's important to keep on top of this; your growth may see you reach a point where it makes sense to run your IT support in-house. Or you may simply decide to move to a new IT support company.
If, like most businesses in the digital age, yours relies on IT, support is too important to leave to chance. As a bare minimum, you need somewhere to go when problems occur. But with a bit more time and effort, good business IT support can actually help take your company where you want it to go.
Major manufacturers can offer a full suite of IT support, from technical and product support to support by topic and individual need.