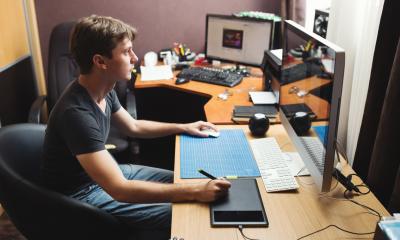 Outsourced IT support can significantly ease the burden on your own staff. If you pick the right supplier to outsource support to, your business will enjoy hassle-free IT support services, expert help when you need it and useful advice to ensure you get the best from your IT systems.
Your outsourced support requirements
This first step in choosing who to outsource support to is to draw up your list of support requirements. These will give the companies you approach a clear idea of what you're looking for, and will provide you with a framework against which you can judge their IT support services.
It may simplify things to find one supplier who can deal with all the different aspects of IT in your business. This may also reduce your overall costs. Many companies will be keen to offer wider business IT services in addition to outsourced IT support.
They might offer to help you buy, install and use IT equipment, so think about this carefully in the context of how your business uses IT.
However, the fundamental question your requirements should answer is: what IT support services do we need? For instance, is telephone support sufficient, or do you also require support on-site at your business premises? What sort of technology does your business require support for?
Find suppliers of outsourced IT support
Once you have drawn up your support requirements, you can start approaching suppliers. Finding support companies with the right mix of skills and experience can be tricky. A good way to begin is by asking partners, clients and contacts either in-person or on platforms such as LinkedIn for their recommendations. Who do the people you trust outsource their support to?
The obvious place to go next is ? of course ? Google. A quick search will throw up thousands of companies. To narrow your results, look for companies specialising in the technologies your business uses. It can help to find local suppliers too ? it makes initial meetings and on-site visits easier.
Costs for outsourced IT support can vary quite a bit, so you may want to request some examples of costs from the suppliers you approach. Figure at least £75 an hour for support on a pay-as-you-go basis, or £10-£20 per device per month with an additional £100-£200 per month per server on an annual contract depending on the number of users.
Shortlisting IT support services
You can evaluate the companies you approach based on their website and social media output. A quick chat on the phone is another good way to get a feel for whether each supplier should make your shortlist.
You may decide to ask the suppliers you contact to respond in a standard format. You might get them to produce a written tender explaining exactly how their outsourced IT support services will meet your requirements, or ask for a simpler request for information, summarising the key points of their bid.
Rank the suppliers in order of preference. A shortlist of between three and six companies is ideal, but getting to this point can take a lot of effort, so you might prefer to start with just one or two good candidates. Invite each into your business and quiz them to ensure they understand your company and its support requirements.
Don't be shy about asking questions. This is the time to address any concerns you have and assess whether your businesses will be able to work together effectively. Your aim is to emerge from the process with a single preferred supplier to whom you can outsource support, so ask whatever you feel you need to.
Decide who should provide your business IT services
Once you have narrowed your shortlist to a single company, you will almost certainly need to talk with them further to clarify the details of what they can offer. That includes the cost and IT support contract specifics.
Pay particular attention to the service level agreement (SLA).This should specify exactly what levels of support they will offer (response times and so on), guaranteeing you compensation if they don't meet these targets. Make sure you check their references too.
Your choice of supplier for outsourced IT support is crucial. Your business may have to rely on them in a crisis, so although it might take time, don't sign a contract until you are completely happy.