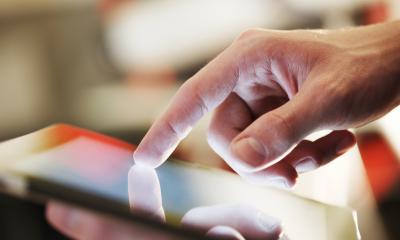 Mobile devices have transformed business. The days of bulky laptops, cumbersome smartphones and expensive tablets are long gone, replaced by a new generation of super-thin, powerful devices of all sizes. And, with an all-day battery life, these devices enable us to remain productive wherever we happen to be.
Such devices are now an intrinsic part of everyday life, and your employees may be using their own at work whether you want them to or not. The 'bring your own device' (BYOD) culture is rising and makes the task of considering how mobile devices could fit into your business all the more important.
Types of mobile device
Mobile devices come in many forms, but the most common categories are:
Smartphones. In some countries, smartphones have become the computing device of choice for many thanks to super-fast 4G connectivity and processing power equal to that of a desktop PC. With internet connectivity, email and hundreds of thousands of apps to choose from, there's little you can't do on a smartphone.
Tablets. Think of a tablet as a smartphone, only with a larger screen. With excellent app support and compelling add-ons such as case/keyboard combinations, the line between laptop and tablet has finally blurred.
Laptops. With tablets and smartphones hot on their heels, today's laptops have become inconceivably thin, lightweight and powerful. They benefit from the ability to run full desktop operating systems such as Windows and macOS.
Smartwatches. These diminutive devices are essentially miniature, wrist-worn computers. They offer a paired-down experience and are generally considered to be companions for smartphones that offer convenient notifications and quick-glance data.
Mobile devices are evolving at a blistering pace and the lines between the above categories are continuing to blur. Laptops look set to be the biggest casualty with many business people and consumers now opting for smartphones and tablets as their main computing devices.
What is your mobile device for?
Your choice of mobile device will depend heavily on how you intend to use it. It is worth bearing in mind that it is now very common for people to switch between devices depending on their location and the task in hand.
Business people usually settle for one of the following mobile device combinations:
Laptop and smartphone. The former can be used both in and out of the office and the latter is an excellent way of providing internet connectivity whilst on the move via tethering.
Tablet and smartphone. A powerful tablet with a decent external keyboard is now a great laptop alternative.
The smartphone is, without doubt, a regular fixture in business. It offers convenient, ever-present internet connectivity, impressive computing power and is portable enough to be slipped into any pocket or bag. The ability to 'tether' devices in order to leverage your smartphone's internet connection make it an essential travel companion for business.
Tablet or laptop?
When Microsoft launched the Surface in 2012, they challenged the preconception that laptops were the only device worthy of mobile computing. Fast-forward to 2015, and Apple launched the iPad Pro, a huge, 12.9" version of their incredibly popular device which prompted many to consider the possibility of replacing their laptop with a tablet.
The answer depends largely on the type of work you do. If you spend most of your time emailing, web surfing and document editing, modern tablets with their significant grunt and multitasking capabilities will work well. If you're a creative who relies heavily on processing power for graphical, video or audio work, a powerful laptop is still the best bet.
Another thing to consider is your preference for input devices. If you prefer traditional keyboards and love the tactile feedback of a mouse, a tablet may not be for you. The latter requires a shift from traditional input methods to touchscreen navigation and compact keyboards.
Stylus devices like the Apple Pencil also offer compelling, traditional input methods for creatives and those who prefer to take written notes.
What are mobile apps capable of?
Mobile apps should enable the people within your business to complete specific tasks efficiently. We now live in an age where almost anything is possible on a mobile device, with apps largely possessing the same features and capabilities as their desktop counterparts.
Examples of the business tasks you can undertake with mobile device apps are as follows:
Creating and editing documents
Tracking to-do lists and implementing a GTD (get things done) methodology
Managing business accounts
Calendar and appointment management
Project management
Individual, group and team communication
Editing video and imagery
Podcasting
Augmented reality (AR) is expected to be the next big revolution in mobile app development with smartphones and tablets soon to be capable of 'placing' digital objects in real-world scenarios.
How AR will benefit small businesses remains to be seen, but the ability to experiment with the placement of virtual objects such as product prototypes and office furniture is compelling.
Mobile apps typically come in two flavours:
Native. Apps built specifically for a particular platform or device and usually obtained from an 'app store' on that device.
Web-based. Apps accessed via a web browser and usually built 'responsively', which means they'll automatically make best use of the screen size available.
When choosing a mobile device for your business, take some time to consider the software you rely on and research the availability of native or web-based apps. App developers don't always build their software for every mobile operating system, therefore your choice may be limited to one or two devices.
The importance of mobile internet access
Mobile devices are only at their most useful when connected to the internet. When you choose a mobile device, you'll need to consider how you're likely to use it and the sort of connection you might need.
There are two main types of mobile internet connection:
Wireless networking (Wi-Fi) allows you to get online whenever you can access a wireless network. All mobile devices are capable of connecting to Wi-Fi networks. Although generally fast, secure and reliable, you can only use Wi-Fi when in range of a wireless hotspot.
4G and 3G networks are now widely available throughout the UK and enable mobile devices to get online without the need for Wi-Fi. All smartphones and many tablets include 3G and 4G connectivity, but 4G is fast becoming the norm and offers speeds equivalent to super-fast home broadband.
While it is possible to obtain tablets that include SIM card slots for mobile broadband access, think carefully before paying extra for this feature. If you have a smartphone with a comprehensive data contract, you should be able to tether your tablet to it in order to share the data connection. Just bear in mind that tethering costs extra on some networks.
Other features to look for in mobile devices
When choosing a mobile device for your business, you may want to consider the following additional features:
Storage space. Is there plenty of room for all your apps, photos and videos?
Battery life. How often are you on the road without access to mains power?
Connections and ports. The number of ports on mobile devices is dwindling. If you regularly use USB devices, make sure the mobile device you're considering offers that connectivity.
For your employees, it is worth experimenting with a BYOD policy. Quite often, you'll only discover relevant business-cases for mobile devices once you start working with them, therefore if you have employees who are happy to bring in their own tablets, allow them to do so and monitor their productivity.
Lastly, and like all technology, mobile devices can have their downsides and present challenges for users.
With email and business software just a tap away, it can be hard for your staff to switch off from work - particularly if colleagues have a habit of replying at all hours. Do you need to implement policies to help your employees maintain a good work-life balance?
There are also potential security risks associated with mobile devices. Smartphones now contain all manner of sensitive information that could do serious damage to your business if it fell into the wrong hands. Think about how to protect your mobile devices and the data they contain.