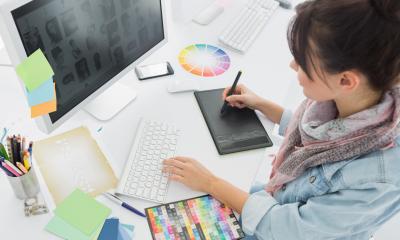 Building a website for your business is a significant project ? especially if you want a customised design.
If you lack small business web design knowledge, you can get expert help and advice by working with a web design agency.
This is a good way to get a highly-professional site designed just for your business. But it's more costly than other methods of creating a website, like using a website builder.
Should we use a web design agency?
When you get a website design company to create your company website, you can benefit from their knowledge and expertise.
As experts in small business website design, development, copywriting, search engine optimisation and usability, they can offer skills you may not have. This should result in an effective, professional website.
Additionally, outsourcing to a web design agency should reduce the workload for your business ? especially if the agency handles areas like web hosting too.
The main downside to using a web design agency is the cost. A good website design company will charge at least £1,000 for a basic website. Expect to pay more for a polished design that's responsive, so it ,displays well on screens of all sizes. More complex sites may cost thousands.
Finding a website design company
When looking for a web design agency, choose one with whom you feel you can establish a good working relationship with. It's also important to find a web design agency which understands your business and its objectives.

Search online and ask around for recommendations ? local business support organisations, suppliers and companies with web sites you like the look of may all be able to point you in the right direction.
Good communication is key ? you need a website design company which speaks your language. Look for agencies with experience of working with clients like you. Talk to previous customers before making a decision.
Once you've drawn up a shortlist, you should interview each company.
What to pay a website design company
A good web design agency will charge between £300 and £600 per day. That may sound a lot, but you can agree a target budget and work with the website design company to achieve this, as long as there's some flexibility on both sides. Be disciplined when planning and briefing the agency to keep costs down.
Many agencies will be willing to complete a well-defined project for a fixed price. This is an excellent option, particularly if your budget is tight. The price you pay will be affected by a number of factors, including:
What dynamic functions your site has. For instance, if you want an ecommerce system that requires custom development, this may add to the cost.
How many page types you need. If all the pages on your site use the same template, costs will be lower because there are fewer pages to design.
Whatever charging structure you settle on, be clear about what's included. For example, you may need to pay for web hosting separately.
Working with your web design agency
One you've found a website design company you're happy to work with, draw up a formal contract. If the web design agency offers their standard contract, don't be afraid to negotiate any points you're unhappy with.
Ensure all intellectual property is signed over to you. If you don't own the graphics, files, content and other elements that make up your website, you won't necessarily be able to adapt it or work with a different website design company in future.
Achieving the right outcome from the project will depend on briefing your website design company well. A good web design agency will ask lots of questions ? typically about your customers, target market, brand and key objectives.
It does take time to gel with a web design agency, so don't expect them to produce great work overnight. Offer constructive feedback to keep things moving in the right direction and agree staged deadlines with review points to keep on track.