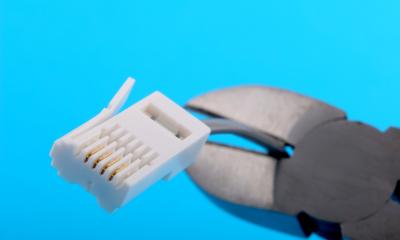 Broadband access is a business essential, but access isn't universal across the UK. So, what do you do if you can't get broadband or if your broadband connection is unreliable? Here's how to stay connected and productive without broadband
Broadband is the lifeblood of many businesses, but superfast connections still aren't available everywhere. Those in rural areas can find downloads speeds are slow, or they may not be able to get coverage at all. It's a growing problem as more of us choose (or are encouraged) to work at home during the week.
Even when you are connected, you may find a disparity between advertised download speeds and the reality, particularly during peak times. (Don't know how fast your connection is? Use our internet speed checker.)
If you don't have access to broadband, or a slow connection is holding you back, here are some ways to stay connected.
Broadband alternative #1: 3G, 4G or 5G connection
If you have a mobile signal but no access broadband, you could buy a dongle to plug into the USB socket on your computer or use your phone or connected tablet as a Wi-Fi hotspot. A dongle or mobile can provide essential internet access anywhere with a 3G, 4G or 5G mobile signal.
If you use a dongle, you'll have to pay a monthly rental fee of between £10-£15 to access the internet. You'll have a limited amount of data to use. If you're using a phone or tablet, you'll use up your monthly data allowance.
Once you've exceeded your allowance, costs can increase dramatically. Thankfully, you should receive a warning when you get near to your limit.
Dongles and mobile hotspots are great for individuals, but aren't suitable for sharing.
Broadband alternative #2: satellite
If you need a strong and reliable connection, consider installing a satellite internet connection. Costs can be higher than hooking up to broadband. You'll need to pay an installation fee and ongoing monthly charges, but it can prove cost-effective if there are no other alternatives.
Satellite connections are hardware heavy, including the dish which will need to be secured to your property somewhere. In the past, satellite connections were hit and miss, but recent developments mean download speeds are high and the service secure.
Satellite providers in the UK include Konnect.
Broadband alternative #3: wireless hotspots
You can find somewhere with a wireless hotspot to access the internet. To connect to a hotspot, all you need is a mobile device with a Wi-Fi connection.
Hotspots can be found in places such as train stations, shopping centres, cafes and hotels. There is also a growing trend for 'shared' hotspots. Co-working spaces, where you can drop in to use the high-speed Wi-Fi internet, are an attractive option.
You can search for co-working spaces on sites like ShareDesk and DesksNear.Me.
You may need to travel to access your co-working space, but these social spaces provide more than just an internet connection. You'll be able to work alongside other freelancers and small business owners, building valuable connections.
Public wireless hotspots are also provided by broadband firms such as O2 and BT, who enable homeowners and businesses to share their own internet connections with people nearby. To access services such as BT Wi-Fi, you'll need an account.
Before using a hotspot, ensure your computer is protected with a suitable security software and anti-virus package.
Broadband alternative #4: DIY
If you are not entirely isolated, there are growing numbers of people who have developed DIY broadband solutions.
Individuals from the affluent community of Lyddington in the East Midlands set up the company Rutland Telecom in 2002 (now a subsidiary of Gigaclear), increasing download speeds from 0.5Mbps to 32Mbps with the help of investors, then offering services to local market towns.
Another rural farmer, Richard Guy, got so fed up with his snail-paced internet connection that he set up his own business to help other rural businesses find a DIY solution. Using a 4G connection, fibre optic cables and solar panels he built his own super-fast connection delivering speeds in excess of 45Mbps.
Sometimes, business owners need to think outside the box to develop solutions. It's what entrepreneurs do best.