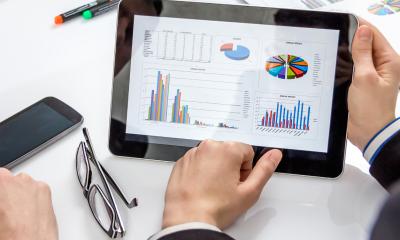 Accounts software helps you track and manage your company finances, ensuring you keep on top of your accounting. It can save you time and money by automating bookkeeping tasks, improving cash flow and financial management, and making it easier to prepare tax returns and annual accounts.
Do you need accounting software?
Unless your business processes very few transactions, you will probably benefit from using accounts software rather than doing your accounts on paper. Accounts software eliminates the need to enter information more than once and carries out laborious calculations automatically.
Businesses that are registered for VAT generally need to keep digital records and file VAT returns online. Under Making Tax Digital, increasing numbers of businesses will eventually need to file tax returns online.
What accounts software can do
Accounts software can be used to perform these core accounting tasks:
Creating invoices, estimates and other documents for customers. Most accounting software makes it very easy to raise and send invoices.
Bookkeeping. Maintain sales and purchase ledgers, carry out invoicing and track payments.
VAT calculations. Automatically calculate the VAT your business owes at the end of each VAT period.
Management reporting. Generate reports to help you understand the state of your finances.
Tax calculations. Generate and submit tax returns to HMRC automatically.
Credit control. Examine which customers have missed payments and send out reminders or charge them interest automatically.
Accounting software can also offer additional functions like running payroll, stock control and recording purchases made through a retail point of sale system. These extras may be available as optional 'modules', or by linking other software packages into your accounting system.
For instance, an accounts package could be tied into your website to record online sales, or could link to your customer relationship management (CRM) software so you can see which customers are most profitable.
Simplify your accounts
Using accounting software can make the task of tracking your finances faster and simpler.
Discover three accounting software solutions for small businesses*.
Types of business accounting software
Accounts software can be divided into three broad groups:
Online accounting software is typically aimed at sole traders and smaller businesses. These packages typically cost £10-£30 a month, and offer all the basics a small business will need. Extras like payroll may be offered at extra cost.
Banking and accounting apps link accounting with banking and payments. For example, some business bank accounts offer built-in accounting features. As online accounting packages increasingly offer mobile apps and the ability to link with your bank account, the dividing line between apps and online accounting software has blurred.
Desktop software typically aimed at larger businesses. This usually comes in a series of modules and offers more advanced capabilities. These sorts of package tend to be more complex and expensive.
Online accounting software (and modern apps) are inherently more flexible than traditional desktop software. You can access the software from any internet-connected device.
The right accounts software
When choosing business accounting software, think about your business and financial management needs. Consider what you want to do with the package, but also make sure it will be compatible with your existing systems and ways of working.
For example, what other systems do you use and how should they link together. How much training will employees need to be able to use the new software effectively?
If your business uses an accountant, consult them before choosing your office accounting software. You will want a system that makes it easy to share information and work together.
Remember that your accounting software requirements will probably change as your business grows. Look for a package that can be easily upgraded as required.
Be prepared to invest in learning how to make the most of your accounting software. While basic bookkeeping can boost efficiency, the biggest benefits often come from using accounting information to improve the way you manage your business.