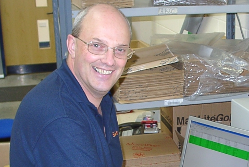 Founded in 2002, Shropshire-based Stinkyink.com sells cartridges for every make and model of printer. As the business grew, it became increasingly obvious that a more integrated system was required. John Sollars of Stinkyink.com shares how they implemented a new back office system

Stock control challenges
With high sales volumes and low margins, the business is very price-sensitive. Keeping operations efficient and automated helps keep prices low.
The company has also had to deal with the challenges of rapid growth. Order levels increased 70% in 2009 and 55% in 2010, putting a strain on Stinkyink.com's manual stock control and management systems.
The firm's managing director, John Sollars, explains one of the challenges it faced: "We saw a significant increase in orders being shipped directly from manufacturers. This involved placing an order on the supplier's website, then re-entering the information on our own system."
"It took a lot of time and was open to errors. I wanted to introduce an automated system to communicate with each supplier."
Many businesses use an electronic data interchange (EDI) system to exchange information with partners and suppliers. Such systems don't require any manual intervention.
EDI wasn't the only requirement; John also recognised that data backup and the customer relationship management (CRM) system - used to help process returns - needed to be part of the project.
Finding the right back office system
John spoke to his existing software supplier, but it wanted a hefty fee of £22,000 to implement a new back office system.
Seeking an alternative, he evaluated three other providers, finally picking Axis First. "Its software is designed for my type of business," explains John, "plus it was under budget."
Stinkyink.com now uses Axis First back office software to automate warehousing, stock control, sales order processing and logistics. The company also set up direct EDI links with all major printer vendors' networks.
This means the Stinkyink.com team no longer has to contact vendors manually. Instead, the system automatically places orders when necessary.
One particular selling point for John was the real-time stock and price feeds to wholesalers. These allow Stinkyink.com to make live price comparisons and secure the best deals; very important when margins are small.
Back office implementation
The back office system was planned and installed over three months. Because Stinkyink.com has a large number of active transactions at any given time, it was a challenge to move to the new system without disrupting these."We imported over 500,000 stock transactions but were live and shipping orders the same day," recalls John.
There were issues. Some members of staff were resistant to the change, and it took time for them to get used to a new way of working. However, a thorough three-day training schedule plus John's evangelical enthusiasm helped convert the sceptics.
Operational improvements
The new back office system has made a measurable difference to business performance. "Within a very short time the overall efficiency of the company has increased by over 40% and net profit has grown by 22%."
Customer satisfaction has increased too: "50% of our sales are now repeat custom," says John, "demonstrating that customers are very happy with the service. That's largely down to on our back office systems."
And he has more plans for the future: "The back office resources and the knowledge my staff have built up gives us a big advantage in new niche areas – all with minimal extra overheads. It's brilliant!"
More on this topic:
Browse topics: Business software