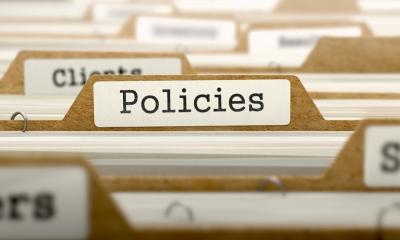 Clear IT policies help ensure your employees aren't misusing your IT sytems. Do you know what your staff are looking at online? Are you confident you're taking proper care of customer data? Is uncontrolled social media use rife in your company?
When you're running a business, sometimes keeping a grip on technology can feel like a losing battle.
Many business owners already suffer from too-much-to-do-too-little-time syndrome. Throw in tech-savvy employees running wild using their own tablets and software, and it's tempting to just let them get on with it.
Tempting, yes. Wise? No. Using free, ready-made templates makes it easy to put basic IT policies in place.
Policy templates to keep IT under control
No matter how much freedom you give your staff, it's important to retain some control over how technology is used in your business. Because when you have control, you can be confident.
You can be confident staff aren't wasting time. You can be confident you comply with data protection laws. And you can be confident you have a proper structure within which your business technology operates.
Your IT policies help establish this structure. They describe how technology should be used in your business, so your employees know what is and isn't allowed.
In short: they protect your company and your staff.
Save £5 and pay £30 for a year's access to 740 business document templates. Use code SLD7948.S
Free IT policy templates for small businesses
Your IT policies don't need to run to hundreds of pages or contain complicated legalese. They just need to cover the essentials and be easily understood by your employees.
In fact, short and sweet beats long and detailed every time. IT policies should be documents your employees can read, understand and put into practice.
To help you create key IT policies for your business, we've created some free templates. Download them today and use them however you like in your company:
You're welcome to just fill in the gaps, or copy the text to use as the basis for your own policies. Just keep in mind that every business is different, so it's best to get all your IT policies double-checked by a lawyer before you put them into place.
You should also take advice on what other IT policies you need - for example, a data protection policy and a website privacy policy. You can find guidance on data protection and privacy from the Information Commissioner's Office.
A friendly IT supplier might be willing to help too, especially if they already provide IT support for your company.