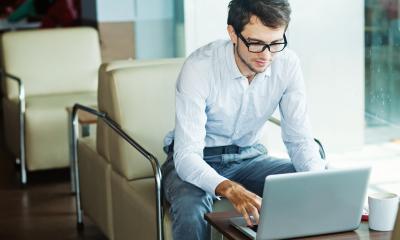 An intranet is a private website that can only be accessed by people within your company. When you create an intranet, you give your staff somewhere to view and share information relating to your company.
Creating an intranet can make it easier for your staff to find and access company information, share resources and reduce costs.
Why create an intranet?
Intranets come in different shapes and sizes. Yours can be anything from a small collection of web pages to a substantial website with advanced features that allow employees to book holidays, log absences and take training.
Creating an intranet site can benefit your company in many ways. For instance:
Better access to information. Creating an intranet gives your staff a central place to store and find everything from HR policies and technical documents to employee and customer contact details.
More efficient administration. Your intranet can be used for tasks like submitting annual leave requests or handling IT support questions from your employees.
Easy distribution of information. When you create an intranet, you can set up alerts so staff receive notification that new information has been added. It's a good way to distribute updated policies or key documents.
More effective collaboration.You intranet can incorporate collaboration tools to help your people work together. For instance, you could set up shared workspaces and discussion areas.
Reliable communication. Even small companies can experience communication problems, with gossip overriding official bulletins. Creating an intranet helps you keep every updated at the same time.
It can be hard to anticipate all possible uses for your intranet from day one.
Rather than try to build capabilities you might end up not using, it can be better to create your intranet with some basic features, then add functions as the need arises.
Do you need to create an intranet?
Even the smallest companies can benefit from creating a simple intranet to store important information and documents.
If you're not sure whether to create an intranet, see if you'd answer 'yes' to any of these questions. If so, you might find an intranet useful.
Do documents often go missing in your business?
Do you find it hard to identify the latest version of a document?
Do new staff members have to ask colleagues about everything?
Is your office bursting at the seams with paperwork?
Are you forever sharing documents as email attachments?
Do you have an effective way to manage staff absence and leave?
Is it hard to find contact details for people in your company?
Create an intranet: where to start
If you've decided to create an intranet, you need to decide what you want it to do and what information you're going to include.
For instance, if your employees require quick access to your customer database, you might build this into the intranet, offering a log in option on the home page.
When creating your intranet, it's important to involve your staff from an early stage. After all, they're the people who will have to use it!
You should make someone in your business responsible for creating the intranet and keeping the project on track.
It can also be a good idea to work with a specialist intranet designer or consultant to understand how an intranet could help your business. There may be less-obvious intranet features that could really make your life easier.
Ultimately, aim to create a list of intranet requirements that set out what you want your intranet to do. To help you prioritise the most important features, you can categorise these into 'must haves', 'nice to haves' and 'extras'.
Finding intranet software
Once you've established your requirements, you can evaluate intranet software packages to determine which best meet them.
Intranets are created using the same underlying technologies as other websites, so it is possible to build one from the ground up. However, most small companies find it cheaper and easier to customise intranet software.
Just like your company website, your intranet needs to be hosted somewhere. You have two main options:
Use a network server on your company premises. With this approach, your intranet is hosted on a server connected to your company network. You'll need to install the intranet software onto your server.
Use a hosting service (recommended). You can pay a hosting company to host your intranet. This can cost from £10 a month, with intranet software often included. This approach makes it easier to set up your intranet for external access, so staff can use it while away from the office.
Intranet hosting services are also referred to as cloud intranet services. If you don't already have a server in your business, a hosting service is almost certainly the more straightforward option.
Alternatively, you could explore platforms such as Workplace by Facebook which provide 'off-the-shelf?, web-based solutions for intranets that mirror social networking features.
It's created - now what?
Creating your intranet is only the start. Once it's up and running, it's important you put in the time and effort to manage it. This is where some intranets fail.
Information overload is a common problem. Because it's really easy to publish material, it's tempting to put everything on your intranet. This makes it hard for your staff to find what they actually need.
To combat this problem and ensure information stays up-to-date, give your staff a sense of ownership over your intranet. Make someone is responsible for maintaining each area - and build time for this into their schedule.
Some business intranets are under-used. This tends to happen when employees don't know what they can do with the intranet, or find it hard to navigate.
Involving staff in the intranet right from the start will help ensure your business intranet is truly useful. You can also run training sessions to explain what your intranet offers.