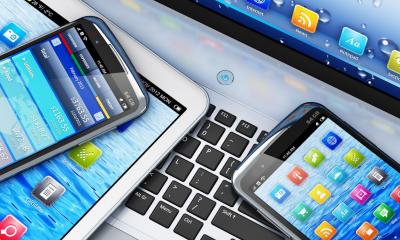 Research suggests that businesses are becoming more positive about allowing staff to use their own IT equipment - most often smartphones and tablet computers - for work
They're right to do so, says Bryan Jones, EMEA Executive Director for Dell Solutions Marketing, because relaxing the rules around the 'bring your own device' (BYOD) phenomenon can boost staff retention and make your company more innovative.
What's more, smaller companies tend to have less bureaucracy, which means they're well placed to grab these advantages.
Changing opinions of BYOD
Traditionally, companies have wanted to keep a tight rein on their IT systems. Many businesses provide standard computers and smartphones, then lock them down systems so employees can only use approved software.
But technology is changing fast. Like it or not, people are bringing their own smartphones, tablets and laptops to work. If they think their own equipment is better-suited than your company's, they'll use it.
Jones says many companies are embracing this inevitability: "Our research shows that there's been a change in the level of interest and acceptance. Companies are starting to see that the benefits can outweigh the costs."
Attract and retain better people
A key argument in favour of BYOD is that it's a good way to attract and retain tech-savvy staff. With IT playing a crucial role in almost every business, your company can benefit from attracting people who are confident with IT, no matter what their role is.
But don't fall into the trap of assuming it's just younger staff who favour employers that provide some tech freedom. "We found that's a myth," explains Jones. "It's not about age - it's about having an interest in technology."
However, he does confirm BYOD can be particularly helpful when small firms compete with larger ones for graduates. "They've grown up with the internet, and with a pretty advanced way of using it. When they graduate, they have a perfectly good laptop and smartphone - then their first employer gives them another one.
"Telling that person that you recognise their individuality and think it's important they have choice can be the tipping point between them choosing a job with a larger company, or choosing to join your business."
Be more innovative
The old model of the IT staff determining what technology is best for a company is changing too, argues Jones. When you put power in the hands of each individual, you encourage them to find more efficient ways to do things.
"Innovation isn't the job of one person or department," he confirms. "Give your people the power to change things, and they'll improve them. For instance, one of my colleagues found that Google+ was a really good, free way to hold online meetings. Now lots of us use it."
Easier for smaller companies
Even if you're sold on the benefits of BYOD, introducing it can seem like a challenge. "As it's about giving your staff more freedom, you really must discuss the idea with your employees from the beginning," says Jones.
At the same time, you need to establish some boundaries. "You can't have a free-for-all," he continues. "You can't support every piece of hardware and software going, so you need to have a policy and plan that doesn't increase your costs beyond what you can afford.
"It's about determining the right level of technology choice employers can offer their workers - whether it's a straightforward BYOD policy or giving their employees a say in technology provision."
Having said that, in some cases BYOD can save you money. "One of the most expensive devices you can supply your employees is a smartphone," explains Jones. "You have to buy the device itself, and you have to pay for the service."
"If you let them, employees will use their network and their phone. You might decide to pay them a small stipend, and as a result you get the benefits of a mobile workforce without the additional costs."
Even if the idea of BYOD leaves you cold, Jones has a warning: "The technology is coming. Above or below the radar, your staff will start using their own equipment at work. You can embrace it and reap the benefits. Or you can let it run wild and risk something going wrong."