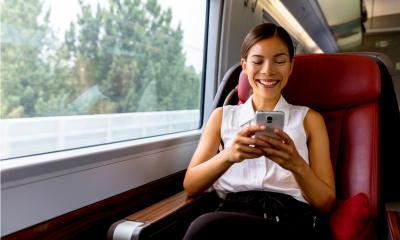 Even with email and Skype, most business owners are forced to spend a lot of time travelling to meetings. But with the right planning, train-time doesn't have to be lost working time. So what's the best way to work productively on the move?
"If most of your day-to-day work takes place on a computer, you can work anywhere - including on transport," stresses Richard Leyland, founder of WorkSnug, which connects mobile workers with places to work. "But clearly if you're going to work from different locations, you need to be aware that some places are best suited to certain tasks and plan accordingly."
Mobile working with email
For many business people, mobile working is about staying in touch. We can blame the rise of smart phones for that - in recent years they've made it much easier for us to contact each other.

"You can use your phone to send instant, important emails," says Richard. But that doesn't mean you have to reply to every message immediately. A crowded train might not be the best place to craft a lengthy, nuanced reply to a complex email. "Give yourself the time you need to write a considered response," he cautions.
Setting up mobile email and instant messaging should be straightforward. Most business email systems will include instructions, and popular instant messaging services like Google Hangouts and Skype IM are free and available for most smart phones.
These services are best used on a smart phone with a large screen. To avoid excess charges, opt for an unlimited data plan. On a two-year contract this should cost around £25 a month, with the handset included free.
Mobile working on the internet
Mobile internet access allows you to get online when you're out and about. You can connect with a range of mobile devices, including smart phones, laptops and tablets.
Many UK train operators now offer internet access. For example, Virgin and East Coast services offer Wi-Fi on all trains, while First Great Western provides it at some station platforms. Wi-Fi is sometimes free to all, but such access may be reserved for first class passengers on some trains with a fee levied for everyone else.
But if you don't want to be restricted to connecting over Wi-Fi, you'll need to sign up for a 3G or 4G connection from a mobile phone network. Mobile internet access is useful in a pinch - like when you need to check a competitor's prices or look up directions.
You can also use your smart phone's 3G or 4G connection to access the internet on your laptop. There are several mobile apps to help you tether your phone to your computer, which connect using Bluetooth or a cable. Check there are no restrictions in your contract for using your phone as modem.
However, patchy network coverage makes maintaining a connection tricky. "Connectivity tends to be unreliable," confirms Richard. "It can be slow and expensive - you can spend all your time worrying about getting connected, when actually it's better to just do things offline."
The small-business view

For some companies, business would be impossible without smart phones. Take Eleanor Callaghan. She runs Dig For Victory, a Brighton-based fashion label which creates one-off pieces from vintage fabric and sells them to international customers via marketplace websites like Etsy.
"I travel a lot to source fabrics, so my phone lets me keep in touch with customers," explains Eleanor. "I don't have a customer service department, so I couldn't do business in this way without my phone."
Mobile email helps Eleanor balance her time between sewing - the creative side of her job - and keeping up with enquiries. "Train journeys are times when I can't be sewing, so it's good that I can use them for another aspect of my business," she says.
Because customers often want a quick response, Eleanor uses an instant messaging service on her phone alongside email. This allows her to chat with customers in real-time. "The Google instant messaging service is good for contacting me immediately," she explains. "Sometimes customers will use that instead of email."
A good place to concentrate
Public transport naturally isolates you from colleagues and customers, so if you don't feel comfortable using the phone, take the chance to exercise your brain. "Do something that requires concentrated thought," suggests Richard. "Take advantage of the lack of connectivity."
A long train journey provides a good opportunity to get stuck into a piece of business research, to review your to-do list or even to update your business plan. But perhaps most usefully of all, it gives you time to think.
If you've been putting off an awkward conversation or need to come up with killer points for a presentation, those moments on the bus or train give you time to consider your approach.
This is probably the most convenient work to do during a journey. You don't need special equipment and you don't have to fret over your internet connection. You can even block out distractions by playing music through headphones.
The key to effective mobile working is to recognise the limitations of your surroundings. "You can't compare working on public transport with the efficiency and convenience of working in the office," stresses Richard. "So you need to decide what tasks work for you."
Working on a plane

A flight can be a great place to work undisturbed, but only with the right preparation:
If you need your laptop, make sure it's fully charged and turn the wireless connection off before you get on board. However, premium economy and business class seats often have power sockets enabling you to plug in and not worry about battery life.
There's rarely space to use a full-size laptop in economy class - take a tablet instead.
Use noise-cancelling headphones to block out engine noise so you can work in peace.
Don't annoy other passengers - think about the items you'll need during the flight and keep them within easy reach.
Don't overestimate what you can do - with space at a premium, pay to upgrade if you absolutely have to get something done.
Some planes offer Wi-Fi, although it's usually chargeable, depending on the class you've booked.