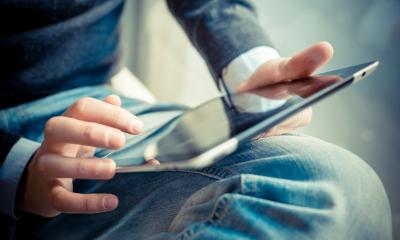 Modern businesses thrive on connectivity. Whether it's to check emails while out on the road, holding a video conference call with staff on the other side of the country or updating the company website on the train, mobile internet access is key to productivity in the 21st century.
Why invest in mobile internet access?
If your staff have access to a mobile internet connection, it's easier for them to work when they're on the move. For example:
Smartphones can issue notifications when new email arrives, meaning speedy response to enquiries.
Dead time becomes productive as long journeys become an opportunity to catch up with email and get web-based work done.
The versatility of mobile broadband helps you and your staff take a flexible approach to work.
Mobile internet is a really useful backup; if your office internet connection fails, you'll have something to fall back on.
Free Wi-Fi hotspots are spreading rapidly, but we're yet to reach a point where they can be relied upon wholesale. It is therefore advisable to invest in SIM-based mobile connectivity for your business.
Tablets and smartphones allow staff to achieve the same level of productivity previously only possible with a laptop. Consequently, the sheer number of devices available with mobile internet capability means there's a solution for every budget.
Getting online with mobile broadband
Mobile broadband uses mobile phone networks to connect to the internet. Speeds vary depending on where you are, but 3G connectivity can be found in all but the most rural of locations and super-fast 4G networks are available in around 95% of the country.
4G connections offer speeds on a par with super-fast home broadband and are therefore fantastic travel companions when you need to work on the move.
All you need to get online with mobile broadband is a modern device featuring a SIM card slot and a data tariff from a mobile phone operator. Most operators will offer data allowances as part of a smartphone tariff, but if you only require the data element, you'll find an abundance of 'data-only' contracts starting from as little as £10 per month for a 1-2GB limit.
Tethering
If you possess a device which doesn't have the ability to connect to mobile broadband directly (such as a laptop), most smartphones will feature a 'tethering' option. This enables your laptop to use your smartphone's mobile broadband connection, usually via Wi-Fi or Bluetooth.
Wireless hotspots
Wireless hotspots are a great source of mobile internet access. They provide a connection to the internet via a shared Wi-Fi network and can be found in places such as cafes, bars and hotels. Some will charge for access, but it is becoming more commonplace for free access to be offered either indefinitely or for a limited amount of time.
To connect to a wireless hotspot, you simply need a mobile device - be it a smartphone, tablet or laptop - with a Wi-Fi connection. They're generally fast and reliable, but the speed will drop if there are a significant number of people using the same hotspot at the same time.
The biggest problem with hotspots is that they're a bit of a lottery. You're not always guaranteed to be near one, although an exception to the rule is the rising trend of 'shared' hotspots. These are essentially Wi-Fi internet connections provided by homes and businesses that opt into services such as BT Wi-Fi.
Be wary of public hotspots that don't require you to input any kind of password to connect. This would result in an unencrypted connection which would be easy for hackers to break into and intercept whatever it is you are sending and receiving.