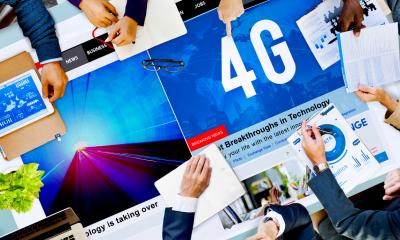 James Walker is managing director of Walker Ellis Associates / J-WASP, an aerial survey and photography company based just outside Keswick in Cumbria
He explains how the business uses a superfast internet connection from EE to deliver a better service to its clients.
Commercial photography
"We've offered commercial photography services for over 20 years and we've seen the market change a lot in that time."
"We're a small business - there are only three of us - and we use technology to help us stay ahead and improve the services we provide our clients."
"That's why we decided to buy an unmanned aerial vehicle, or UAV. It's a small device, about the size of a model plane, and it flies around a pre-determined area capturing images and elevations data. The photographs are then stitched together to produce a seamless orthomosaic and we can use the 3D data to produce maps and elevations models."
"We were the first photography company in the UK to buy this particular system. The technology is still relatively new, but it has all kinds of applications."
"It's useful in construction, agriculture, flood alleviation, archaeology… anything from working out what size a field is to monitoring crop diseases or calculating the volume of earth removed from a quarry."
"Purchasing the UAV revolutionised what we do. Previously, our clients would have had to pay to hire a plane or helicopter, but the UAV means our services are much, much cheaper."
Life before superfast internet
"When we bought the UAV, we didn't really realise what huge amounts of data it would generate. A single flight can create up to 3,500 separate images, each three to four megabytes in size. Even small jobs create hundreds of megabytes of data."
"To process that data, we have to upload it over the internet to a server. We then download and check it before uploading it again, this time to the client."
"The standard broadband internet connection at our office was just too slow for this. It was taking hours to upload the files from a single job. And because we couldn't get a faster fibre connection here, we thought we were out of options."
The luck of superfast internet
"But then we got lucky. Incredibly, EE - our provider - decided that the mobile phone mast over the road would be one of the first in the UK to handle fast 4G data connections. They turned it on just a couple of months after we bought the UAV."
"We have a 4G router in our building. It's a box that connects to the 4G service and creates a wireless network so we can share the connection. It was really easy to set up - we just plugged it in and off we went."
"We also use a MiFi device which gives us a 4G connection when we're out of the office. This enables us to deliver images to our clients directly from the field."
"The speed has been really impressive - on average we can download at around 40 megabits per second (mbps), and upload at 18mbps. That means the upload speed is about 20 times faster than our old standard broadband connection, so it saves us a huge amount of time."
We need superfast internet
"We need 4G, because we would really struggle to deliver what we do without a fast connection. It's the only option in our current location."
"Because it works so well in the office, I also use a 4G SIM with my iPhone and iPad Mini too. Coverage is really good in our area and when travelling around, so I often pick up a 4G signal."
"4G was more expensive when it was first introduced, but as a business you have to weigh up the costs. We absolutely needed it to work effectively. These days 4G coverage is almost universal and usually comes at no extra cost."