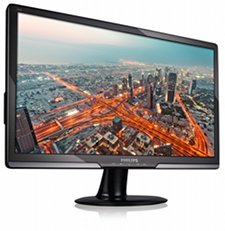 If you're looking for a crisp, clear monitor for your desktop or laptop computer, 24" screens currently strike a nice sweet spot between price and screen real estate.
We've just spotted this Philips E-Line 244EL2SB LCD LED 24" HDMI monitor over on eBuyer for just £107.99 including VAT and delivery. (Incidentally, why do hardware companies give their products such awkward names?)
That's a great price for a 24" screen from a reputable manufacturer, and we can't see it cheaper anywhere else at the moment.
See it now on the eBuyer site >>
About this tech bargain
This Philips monitor should be a perfect workhorse display for your business. It's large enough to have several windows open at once, giving you space to spread out your applications.
It's also a full HD screen, which means it has enough pixels to display high definition content (like films and games) at the best possible quality. The 1920 x 1080 pixel resolution is pretty standard for a screen this size.
The 24" screen has HDMI, DVI and VGA ports, which will allow you to connect it to virtually any computer in your company.
If you use a Mac, you'll probably need to buy a DVI adaptor to hook this screen up, and you'll also need a cable to connect it to your computer, if you don't already have one your can use.
This is an excellent price for a 24" monitor. See full details and buy online now.