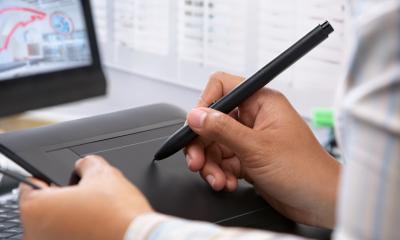 Creative software can be used to design and create visual and audio assets for your business.
Creative software is now more widely available and simpler to use than ever. You can use it for all kinds of things, from creating leaflets and editing photos to recording a podcast or creating a promotional video.
Once the sole domain of powerful desktop computers, creative software is now readily available on tablets and smartphones, enabling creatives to get to work whenever inspiration strikes, regardless of their location.
What is creative software?
Creativity is a huge part of business, and for the purposes of this article, we're going to consider creative software that covers the following areas:
Photo editing software. Manipulate photos on your computer or mobile device. For instance, you can remove red-eye, crop photos or make them sharper.
Graphics and illustration software. Create visual elements like logos and diagrams from scratch.
Desktop publishing software. Design and print promotional materials like posters, brochures and leaflets.
Video software. Edit and combine videos to use on your own website, YouTube or other places. For instance, you can create 'how to' or demonstration videos.
Audio software. Record and edit audio clips. You can use audio software to record podcasts, create music and more.
If you're looking for software to help you build a website, please read our information about web design software and online website builder packages.
Does my business need creative software?
You might think that your business has few requirements to edit photos, create videos or record podcasts, or perhaps you already work with an agency that takes care of that kind of thing for you.
However, in the fast-moving digital economy, it can still be useful to have some basic creative software in-house.
For instance, digital recording equipment, cameras and smartphones that offer multiple ways to create content are remarkably affordable these days. Together with the emergence of social media, this can create plenty of opportunities for businesses willing to experiment with creative software.
For example, you might use photo editing software to tweak an image on your smartphone before posting it to your Twitter feed. Or you might create and share a short video of your new office online.
Creative software can also be useful in other situations. For instance, you could use an image editing app to quickly put together a rough-and-ready web page wireframe for your web designer to work from.
Is creative software easy to use?
It's important to match your creative software to your own abilities.
For instance, creating great designs and graphics involves more than having the right software; you need the skills of a good designer, too.
For this reason, unless your business has an in-house designer or a member of staff with good design skills, purchasing expensive graphics software can be wasteful.
The same goes for video software, audio software and other types of creative software.
Instead, consider using basic software for simple tasks and employ a freelancer or agency for the more complex projects.
When you choose simple creative software, prioritise ease of use over its ultimate capabilities. Often, the more versatile software is, the harder it is to use!
How can I find great creative software?
It's important the creative software you choose matches the skill level of the user. Professional packages like Adobe Photoshop are incredibly versatile, but also take a long time to learn.
Creative software comes free with some computers and tablets. This may be all you need to perform simple tasks.
For instance, Microsoft Windows and macOS includes functions that allow you to rotate, crop and alter the brightness and contrast of photos.
Alternatively, you may be able to acquire creative software as part of an office suite. These often include desktop publishing software, basic photo editing and illustration tools.
There are lots of free creative software packages available on the market. For instance:
However, for basic work you may be best off using a cloud service that can be accessed via a web browser. There are lots of cloud services for working with images and photos, such as the aforementioned Canva, but you can also try Pixlr or FotoFlexer. We also love the simplicity of Clipping Magic for removing the background from images.
What other software is available?
Professional creative software can be expensive. For instance, full-blown photo editing software can cost over £500.
If you think your business needs a fully-featured package then it may be possible to reduce costs by accessing software on a subscription basis.
The Adobe Creative Cloud is one such option. Alternatively, if you require professional results, but on an ad-hoc basis, it's probably cheaper to employ a professional designer or agency.
If you need something more advanced than a basic package, but don't require the full capabilities of professional design software, look for a cut-down version of a professional package.
These are significantly cheaper - around £100 - but should still satisfy most requirements. Adobe Photoshop Elements is an excellent option.
Finally, if you have a tablet such as an iPad, you might find it the perfect platform for creative software. Apps like Pixelmator (editing images), iMovie (creating videos) and Hokusai (working with audio) are good places to start.