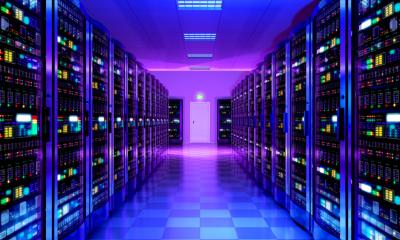 Traditionally, if a business required a network server, it would purchase the hardware and have it installed on-site – but cloud solutions are changing requirements
As internet connections are getting faster and prices have fallen, managed server hosting is fast becoming the norm.
Managed server hosting involves leasing a server which is not physically located on your premises, but is accessed online through the internet. You can use it in the same way as a traditional network server – but it's cheaper to operate and faster to deploy.
Managed server hosting contracts
A typical managed server hosting contract will operate for 12 months (though some providers offer shorter contracts). The provider will look after, or manage, all the technical aspects of the service,
Your managed server hosting provider will take responsibility for the network, the server hardware, the operating system and physical security of the server.
Managed server hosting support
Every managed server hosting provider should provide a secure environment for your data.
Depending upon the level of management they offer, your managed server hosting provider may also take responsibility for other tasks. This could include keeping the services and applications on your server running smoothly and reduce the likelihood of data loss or a security breach.
For instance, many managed server hosting providers will handle backups, patching, software upgrades and application maintenance – freeing you from these tasks.
Stay on top of your business spending – free trial
Automate your expenses and simplify your spending with a payment card solution from Pleo. No more expenses reports, piles of receipts or out-of-pocket purchases. Set limits, get notified of purchases in real time and seamlessly integrate with your accounting system.
Get a one-month free trial and only pay £6 per user, per month thereafter.
Do you need managed server hosting?
Managed server hosting can be a cost-effective alternative to hosting a server on your business premises for a number of reasons:
There's no capital outlay to buy the server to begin with, or to upgrade in the future.
As maintenance is performed by the managed server hosting provider, there's less pressure on your in-house IT staff.
Most managed server hosting services are scalable, which means you can purchase additional resources as you need them, or scale back when you don't.
On balance, managed server hosting is often more reliable, as servers are located in purpose-built buildings with backup power and internet connections.
Although the exact benefits of managed server hosting will vary from provider to provider, you should also expect to benefit from:
Technical staff with in-depth, up-to-date skills, who are available immediately to deal with urgent or critical issues.
Servers that are monitored 24 hours a day, 365 days a year – at a fraction of the cost of providing this level of cover in-house.
Prompt resolution of issues and problems with your managed server hosting, outside of your normal business hours where necessary.
Software upgrades and scheduled maintenance performed outside of your working day, to avoid disruption to your business.
The ability to add extra managed server hosting capacity within hours, not days.
Managed server hosting costs
There are costs and implications involved in moving to managed server hosting, so be sure to consider the following points:
Moving data onto managed server hosting takes time and resources, as does moving from one hosting provider to another. It's therefore important to do your research before deciding to shift.
Some simple tasks may take longer than they would on your own premises. For example, you may need to request a reboot of your server – whereas if it were in-house you could just go and press a button.
Although the upfront costs of managed server hosting tend to be much lower than having an in-house server, the ongoing costs can soon mount up.
There may be limits to what software your managed server hosting provider supports. It's very important to discuss your requirements with them so you end up with a server which is right for the long-term.
Some managed server hosting providers will prevent you from changing fundamental settings. This is because they will manage those areas for you. It's not usually a problem, but again, if you have specific requirements, do your research before signing a contract.
There may be additional costs for exceeding data transfer limits, or for asking the managed server hosting provider to perform tasks which are not covered by standard technical support.
Remember that signing up for managed server hosting is a major decision. Although the initial outlay is nowhere near as much as buying a standalone service, it's critical that you get it right.
Shop around, talk to providers in detail and seek advice from your IT supplier or support firm if you're in any doubt as to what you need.
The right managed server hosting will bring lots of benefits to your business both now and in the future – so take time to make the correct decision.