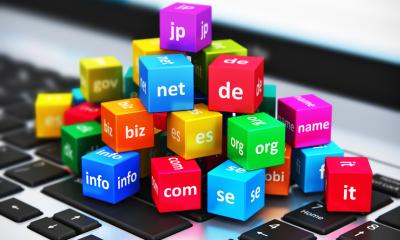 Your company's domain name forms a crucial part of your online presence and branding. Quite simply, you need a domain name if you're running or starting a business.
What is a domain name?
Your company's domain name is its website address, like yourcompany.com. For instance, the Tech Donut's domain name is techdonut.co.uk.
Having a memorable domain name makes it easier for people to find your company's website. Most businesses also use their domain name in their email addresses, like [email protected]
If you don't have a domain, you'll have to rely on generic, unprofessional email addresses, like [email protected] And you'll find it hard to set up a website at all.
Types of domain names
Domain names are classified by the extension they have, like .co.uk or .com. There has always been a wide choice of extensions, but the liberalisation of the domain name market - which really began in 2013 - has created hundreds of new extensions and cleared the way for many more.
Some domain name extensions are linked to particular countries. For instance, .uk for the UK, .de for Germany and .br for Brazil. Others are generic, like .com, .net or .biz. Many regional UK businesses have opted to choose an extension that reflects their heritage or where they are located. You could choose .wales, .cymru or .scot if this applies to your business.
Most domain extensions have no restrictions on who can buy them. For instance, some people choose Colombia's .co domain extension on the basis it could represent 'company'. Other businesses use less-common extensions to create a catchy web address, like adfoc.us.
However, the most popular domain names for UK businesses end in .co.uk and .com. Internet users are familiar with both these types of domain names and may attach more credibility to websites using them.
When choosing a domain, it's therefore wise to look at .com and .co.uk first, then expand the search if you can't find a satisfactory domain name with one of these extensions.
It is worth bearing in mind that when the UK leaves the EU, UK entities and individuals with .eu domain extensions will no longer be able to register new or renew existing .eu domain names. It won't be possible to redirect traffic from an existing .eu domain name to a new domain name either.
It will only be possible to register .eu domain names if you are:
an undertaking with a registered office, central administration or principal place of business in the EU;
an organisation established in the EU without prejudice to the application of national law;
or an individual living in the EU.
Choosing your domain name
Most experts agree that short, simple domain names are better and more memorable. However, as most shorter names are already taken - especially for popular extensions, like .co.uk - you'll probably have to choose a longer one.
That's where it can start to get tricky. Be wary of using creative spellings, hyphens or anything else you'd have to spell out to a client. Domains should be intuitive and easy to remember.
Many companies incorporate keywords into their domain names to gain search engine rankings. However, this is much less effective than it used to be. It's certainly possible to achieve good rankings without a keyword-heavy domain, as long as your website's content is good.
Searching for and buying domain names
It's easy to check if a domain name is available and to buy it online. What's more, domain names tend to be cheap.
Domain name registrars like 123-Reg, Hover, UK2, Names.co.uk, GoDaddy and 1and1 sell .uk domains from around £5 a year, and .com domains from around £10 a year. You can check the availability of almost any domain from their websites.
When you register a domain, you're buying the right to use it for a period of time, so the registration fee is not a one-off cost.
Be wary of deals offering a super-cheap price for the first year. These are sometimes followed by rapid price increases in subsequent years.
It's also important to find a provider that will give you freedom to use your domain name however you want.
You should be able to buy your domain name from one company, then set it up to work with your website or email system, even if they are handled by another supplier. Make sure your domain name registrar doesn't charge a fee to transfer your domain elsewhere.
If you already work with an IT supplier or web agency, they may offer to register your domain name for you. If so, make sure the domain is registered in your company name, not theirs, so you can keep control of it even if your relationship with that company ends.
Finally, if you've come up with a great idea for a domain name, register it as quickly as you can and don't mention it to anyone until you've done so. It can be really hard to find good, available domains, so if you get lucky, claim it fast.
The secondary market for domain names
As well as buying a domain name direct from a registrar, you can purchase one from its current owners.
This is the secondary domain name market, where domains can sell for hundreds or thousands of pounds.
Buying on the secondary market means either dealing direct with the domain's owner or going via an intermediary like Sedo.
Either way, the process can be tricky and inflated prices are the norm, so get clued up first.