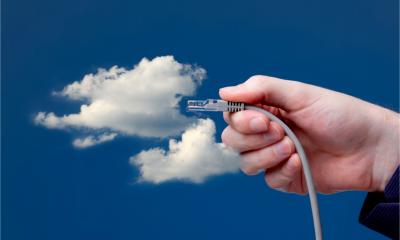 Cloud computing has established itself as the future for software and data storage. Businesses that have shifted to the cloud can experience significant benefits, increasing convenience and cutting costs. We describe exactly what the cloud is, how can it help your business, and whether it's worth the investment.
Put simply, cloud computing is a way of using the internet to carry out tasks you typically perform on your computer - such as storing data, sharing information and using software.
Instead of purchasing software and installing it on your computer, applications are hosted on secure servers that you access over the internet - or 'in the cloud'.
Obviously, you'll need a secure internet connection to access the cloud. Some software and storage can be accessed through your web browser (such as Google Chrome or Internet Explorer), or through dedicated apps you download to your computer, or mobile device.
One of the main advantages for businesses is that all storage and processing is done virtually, so there's no need for a network server – but the benefits don't end there.
According to Robert Epstein, head of small business sales and marketing at Microsoft UK, the range of possibilities is still growing.
"What is new is the huge and growing variety of software, and the fact that cloud is now much more effective because of greater bandwidth and faster connections."
Using cloud technology
Typically, businesses will pay a cloud provider – such as Google or Microsoft – a monthly fee for their software or service. Instead of owning the software, you license it, paying a regular subscription to use it.
The cloud applications commonly used by small firms include email, customer relationship management software, accounting software and databases.
It's not just productivity software, you can also use cloud systems to store data online. Instead of having to save documents and data to a hard drive or network server, you can save them to the cloud.
Costs vary depending on the services you require, but they are affordable. Microsoft's small business package costs around £9-£11 per user per month and includes access to core business essentials, including email, data sharing and web conferencing.
Flexible IT solutions
"Cloud computing can offer small businesses a lot of flexibility," says Epstein. "It's accessible anywhere, anytime from any device that connects to the internet."
It can also be good value for money. Rather than buying standalone software that you install on an individual computer or network, you simply pay a monthly fee. You'll need to buy a license for each user, but the shift to the cloud makes access to productivity software cheaper than it has ever been.
Storing data to the cloud enables you to access it anywhere at any time and on (almost) any internet-enabled device. You can check and change Word documents on your mobile phone, then log in to your laptop to finish them off.
Cloud software frees you from the time-consuming, and often confusing, task of keeping it updated. Ongoing updates, upgrades and maintenance are all performed by the software provider behind the scenes, which means you'll always using the safest and most up to date version.
"This can help you operate on a more level playing field with big companies, because you can access the latest, sophisticated software without high levels of investment," explains Epstein.
Cloud services
There are many cloud computing services to choose from, including productivity software, data storage, design packages and more. Here are some of the most popular among small businesses:
Drawbacks of cloud computing
As we've explained, you'll need a stable internet connection to use cloud solutions, which may make it unsuitable for all users. For example, if your internet connection is down you may not be able to access critical data.
When selecting a cloud software provider, it's essential to use one that you can trust. Thankfully, you'll find all the big name software providers you can trust offering cloud solutions. You can check online reviews to learn from others' experiences.
If you're basing your business in the cloud, you should and check service level agreements carefully before signing say the experts. "Make sure they have the technical capability to deal with your business needs and always ask about their security standards," emphasises Epstein.
"There's no point changing your IT set-up for the sake of it," he concludes. "But if your email package is a bit slow or you're thinking about upgrading, it's worth looking into."
Preparing for the cloud
Adopting cloud technology for your business represents a fundamental change in how you work. It will also transform how your company buys and provides IT services to your staff. Before taking the leap, evaluate the costs and benefits carefully advise the experts.
Neil Cross from Advanced explains seven key things to consider before adopting cloud computing for your small business.:
Work out what you want to achieve and why. Make sure you understand what improvements you want the cloud to bring you. Consider cloud services alongside other options and evaluate the benefits and drawbacks of each.
Understand your overall business needs – not just IT needs. Many businesses decide to adopt cloud computing to make their systems more efficient. However, cloud computing can mean fundamental changes to your IT infrastructure and an end to services and procedures with which staff are inherently familiar, so it's vital the proposed changes are well-suited to your entire business. Cost savings alone may not be enough to justify such big changes.
Prepare thoroughly. Plan the introduction of cloud computing meticulously. Work out how it will be adopted, managed and monitored. You can access 'on demand' cloud services in minutes - this can be a good way to experiment with different options before rolling it out across your business.
Make it less complicated as well as less expensive. Cloud services appear cheap, because they charge a small amount each month. But those monthly fees can soon add up, especially if you add bolt-ons or additional user accounts. Remember too, things can get more complicated. You'll have to work out how to manage your cloud supplier(s) and how to link the different parts of your business IT together.
Think about the risks. Will your data be held safely and securely? Is your chosen cloud computing supplier reliable and experienced? With data security a serious concern, it's vital you choose a reputable service that employs robust cyber security measures and is compliant with GDPR.
Choose the right partner. Don't judge on cost alone. Choose your suppliers with the same care you would pick any other key provider. Check what level of service they guarantee, what support is available and when, how will they monitor your service and – crucially – how and where your data is stored and protected.
Decide what service level agreement (SLA) you need. If you'll be relying on cloud computing, you need it to be reliable. An SLA guarantees a certain level of availability and how quickly you'll get a response in the event of any problems.
Once you have considered the points above, you should be able to assess just how much cloud computing can help your business. You'll also have the basis of an implementation roadmap, enabling you to adopt cloud software in a way that eliminates risks, minimises disruption and maximises your return on investment.