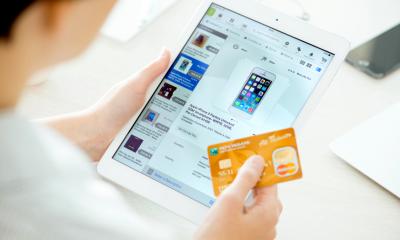 If you sell your products or services online, you need to be able to take online payments. A good payments system makes it easy for customers to buy, and gives them confidence that your website is trustworthy. You also want to minimise the fees you pay for accepting payments
Although the details of online payments can be complex, for most businesses it comes down to a relatively simple trade-off. You can choose a system that is easy to set up, or one that offers you more control and lower transaction costs.
How online card payments work
To accept card payments online, you need two things:
A 'payment gateway' to handle the technical side – the online equivalent of the point-of-sale terminals used in shops and restaurants. When a customer is ready to pay, they are taken to a secure form to enter their payment details. The gateway checks the card details and authorises the payment.
A 'merchant account' to handle the money – a separate online bank account that payments made by customers are put into. Money in the merchant account then gets transferred into your main bank account.
Find out more about accepting card payments face-to-face, by phone and online.
Easy online payments
The easiest solution is an all-in-one package. You can:
create an ecommerce website, using their templates;
process payments using their payment gateway;
have payments collected by them, rather than needing to set up your own merchant account.
Because it's all part of the same package, it's easy to set up and there shouldn't be any problems getting everything to work together. If you've already built your website, you can still use a solution like this to add payment processing to it.
Not needing to set up your own merchant account is a particular advantage for small or new businesses. You are unlikely to qualify for your own merchant account unless you have a track record and a reasonable credit rating.
Square is an award-winning platform that lets you accept every kind of payment. Their online payment solution charges a flat fee of 1.75% for online transactions.
Shopify is a well-known example of this kind of solution. You pay a monthly fee (from US$29 per month) and a transaction fee of between 1.6% and 2.2% plus a 20p handling fee for each transaction.
iZettle is popular with businesses that sell both face-to-face and online. Their online payment solution also charges a flat fee of 1.75% for online transactions.
PayPal
One option for an ecommerce business is to sell through eBay. This offers a complete solution, including handling payments using PayPal.
You can also use PayPal to accept payment for sales made through your own website. There are several advantages:
PayPal is a very well-known and trusted brand.
It's easy for customers. They can pay you using their existing PayPal account, without needing to re-enter all their payment details.
It's easy to add PayPal payments to your website.
You can handle all your payments through PayPal, or include a PayPal option alongside another solution.
The main disadvantage of PayPal is that costs are relatively high. Transaction fees start at 3.4% plus 20p for sellers with low sales, falling to 1.9% for turnover up to £55,000. Lower fees are negotiable for businesses with higher turnover.
Your own merchant account
If you are prepared to invest more time and money in setting up payments, you may get a better solution. In particular, growing businesses may want more control, more choice – and lower costs.
To start with, you'll need a merchant account. You may already have one if you accept card payments face-to-face. If not, you'll need to apply for one. Merchant accounts are offered by all the major banks and a few other 'acquirers'.
You'll also need a payment gateway, either from your acquirer or from another 'payment services provider'. Well-known examples include Worldpay, Sage Pay and Sellerdeck. Check that your acquirer can work with whichever payment gateway you choose.
Choosing the best payment services provider
Identifying the right payments system for your business can be complicated. As well as asking contacts for recommendations, you should use a comparison service to assess different options.
Factors to take into account include:
Ease of set-up. Are you taking a DIY approach or using expert help? Have you checked that everything will work together?
Customer experience. Are you happy with how any templates look? Will customers make payments from within your site, or on a third party payment page?
Security and fraud protection. What payment security is provided? Does the supplier give you extra fraud protection?
Payment types. What cards are accepted? Do you want to take other kinds of payments (eg face-to-face, by phone, online banking, subscriptions)? Can the system handle digital wallets like Apple Pay? Do you take international payments in different currencies?
Fees. What fees do you pay, and what will your total costs be? Are there any restrictions on payment size?
Reputation and support. How easy are they to deal with, particularly when things go wrong. For example, customer disputes and fraud.
Payment speed. How soon will money paid by the customer be transferred into your bank account?
Reporting tools. What information does the system provide on transactions, fees and payments?
Flexibility. Will the solution cope as your business grows? How long are you locked into a contract for? How easy would it be to change supplier later?
Payment processing fees
Understanding costs is a key factor in picking the right solution.
Some solutions offer a single, monthly fee depending on how much business you do. For example, £25 per month for up to 300 transactions, £50 for up to 3,000 transactions, and negotiable for higher levels.
For others, fees can include any combination of:
An initial set-up fee.
A monthly fee.
A small authorisation fee each time a card is used for payment (even if the card is rejected).
A transaction fee, usually as a percentage of the value of each transaction. Percentages can be different for different types of card.
Separate charges for security measures, such as an SSL certificate.
Fees for dealing with 'chargebacks' when a customer says the payment was fraudulent and other disputes.
Aim to compare total costs based on your expected use. Simple solutions with relatively high transaction costs can be cost-effective for low volume businesses. Lower percentage fees become more important as sales values increase.