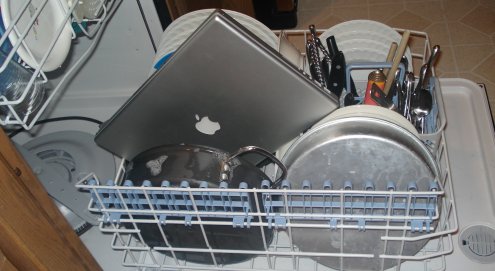 How not to clean your computer. (Image: jblyberg under Creative Commons.)
So, after the first of two super-long weekends, it feels a bit like Christmas - only with better weather. With only three working days this week, you might be wondering whether there's much point getting stuck in to anything. Some companies have even closed down for the duration.
If you've found yourself in an otherwise deserted office this Tuesday morning, maybe you can take advantage. It's an ideal opportunity to spring clean, spruce up and service your business computers. Here are our suggestions:
Carry out software updates and patches. If you've been waiting for an opportune moment to roll out updates to computers on your network, this could be it. With fewer people about, any glitches should cause little disruption. So when things pick up next week, you'll be fully up-to-date and ready to go.
Clean up your computers. Sometimes keeping a computer clean of junk feels like a losing battle - especially if you have adventurous employees who install their own software. But there are ways to fight back: for a start, try CCleaner, which should do a good job of removing surplus files and settings.
Get paranoid - do a full virus scan. Just because you haven't detected any viruses doesn't mean there aren't any on your systems. As there's no such thing as too much security, why not kick off a time-consuming deep virus scan of all your computers and servers?
Have an actual spring clean. According to this admittedly old research, there are more germs on your average keyboard than on your average toilet seat. Maybe now's as good a time as any to get the disinfectant out.
Restart your servers. Yes, yes, I know that many IT managers take pleasure in how long their server has been up without a reboot. But really, if it's not being used, you might as well restart it. It won't do any harm, and should clear any residual data out of the memory.
Try something new - how about Linux? Yes, the open source operating system is intimidating if you've not used it before. But with a live Ubuntu CD and a few spare hours, you can get a feel for it. Maybe it'll give you the impetus to consider open source for your business.
If all that sounds like too much work, perhaps you should take a break too - if you have the luxury of being able to do so. It's a long time until the next three day week...