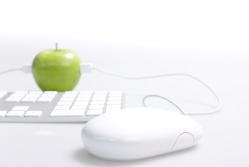 I've just lost a brilliant, inspiring potential sales director. Here I am, a hot startup in the search space with tons of VC backing, an emerging market and offering a great salary and significant stock options and I lose to a huge American corporation. 
Aren't big corporations supposed to be terrible to work for? Aren't they supposed to be nasty to their people and only attract second raters? 
The corporation in question in this case is Apple. As an ardent Apple fan of four years (since the first MacBook Air) I can't even get bitter and twisted over this loss. I actually found a worthy competitor. And for the first time in my life I actually didn't mind coming second. 
What is it about Apple? 
Steve, you did a brilliant job of being clever more than once. Everyone is allowed to be clever once, few achieve it. But Steve, you did it time after time after time. iMac, Air, iPod, iPhone, iPad.
How?
It's in the team. Steve was a talent magnet. And a generous one to boot. Some of his key people had stock options in the range of hundreds of millions of dollars. Many middle managers are millionaires.
Whilst he was clearly becoming sicker over that last year he was neatly handing over the responsibility of the business to trusted lieutenants – the likes of design genius Jonathan Ive and logistics genius Tim Cook.
What you have bequeathed us Steve is not only brilliant products (you have to try the iPhone's new artificially intelligent assistant, Siri, it's incredible) but a world class example of how to run a business that is capable of repeating success through talent acquisition.
What was it Lyndon Johnson said? "If you recruit someone who is better than you then you conclusively prove you are better than they." So true.
Thanks Steve.
John Straw is an expert contributor to Marketing Donut and the founder and VP of Business Development of Linkdex.