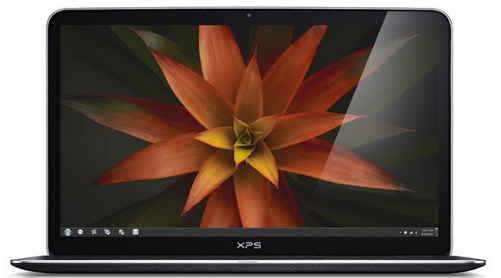 Laptops have been getting better for years. Back around 2002-ish, you were delighted if your laptop could run Microsoft Word without slowing down and lasted over an hour away from mains power.
But nowadays we're reaching the point where a laptop battery can last a full working day. Even the cheapest laptops can handle common business applications. You're even slightly less likely to hurt your back when lugging one around.
Ultrabooks for 2012
Although they have got sleeker in recent times, many laptops are still chunky, uninspiring to work with and heavy to carry. Choosing one can be tricky, because often you're faced with a series of compromises.
If you want lightness, you have to sacrifice power. If you want a keyboard you can type on with ease, you're going to have to find a bit more space in your bag.
But now we're faced with what some think is a fundamental change to the world of laptops. In 2012, manufacturers are racing to release ultrabooks. These super-thin laptops are designed to end those compromises.
The idea of an ultrabook is to give you all the power you need in a small, stylish shell. You should get enough battery power to work all day and a decent screen and keyboard so using your laptop for hours at a time isn't a painful experience.
But are 2012's ultrabooks right for you?
As more ultrabooks appear on the market, we're starting to see how well they live up to what they promise.
Take the new Dell XPS 13 Ultrabook (pictured). It has garnered excellent reviews (four-and-a-half stars from PC Advisor, and PC Pro's recommended status) and has all the key characteristics you'd expect from an ultrabook:
It's stylish and well-built. Ultrabook manufacturers put a lot of effort into making the machines look sleek and feel solid to use. Expect clean lines, little in the way of labels and badges and key components made from metal.
It's small and light. Size is everything when it comes to 2012's ultrabooks. Many are under 2cm thick at their widest point and weigh under 1.5kg – that's less than half the weight of many workhorse business laptops and thinner than a stack of post-its.
It uses a solid state hard drive. Solid state storage works like a camera memory card. Unlike normal hard drives, there are no moving parts. This means data can be accessed much faster, making ultrabooks very snappy to use.
There's no CD drive. You can't fit a CD drive into a super-thin laptop and it takes a lot of battery power to spin a CD. So, ultrabooks do away with the CD drive altogether. Does it matter? Well, when was the last time you put a CD in your computer?
The battery lasts ages. We're talking four hours plus under heavy use, and over eight hours if you're not pushing the processor hard. It's meant to be a mobile computer, so it must have a battery that stays the course.
There's one other thing that sets ultrabooks apart from more humdrum laptops. And that's the price. They tend to be more expensive. In general, you'll pay £900 or more.
Although that may seem steep compared with a bog-standard £500 laptop, when you get your hands on an ultrabook you can see where your money has gone. It takes a lot of engineering effort to fit so many high-spec components into such a small space.
Get ready for lots of 2012 ultrabooks
As there's no official definition of what constitutes an ultrabook, expect to see plenty in 2012 which don't tick all these boxes. Indeed, over time, some of those ultrabook features should start trickling down into more standard laptops. And wouldn't it be great if super-light, super-thin laptops became the norm, rather than the exception?