It's interesting to see how tablet computer manufacturers have lined up behind the indisputable industry leader, Apple. In some ways it feels like the iPad doesn't have many head-on competitors.
Some tablet makers have tried to be a bit canny. Knowing Apple products aren't cheap, they've aimed towards the budget end of the market – offering a tablet experience without the iPad's price. Others have changed or added features – for instance, by making the display much smaller, including a detachable keyboard or adding an extra screen.
We've tested two tablets recently. The first is the Archos 101 G9. Available for a little over £200, this is a 10" tablet for the cost-conscious that fits squarely into the first category. The second we tried is the Fujitsu Stylistic Q550. At around £700 it ain't cheap, but it's one of the few tablets you'll find running the full version of Windows 7.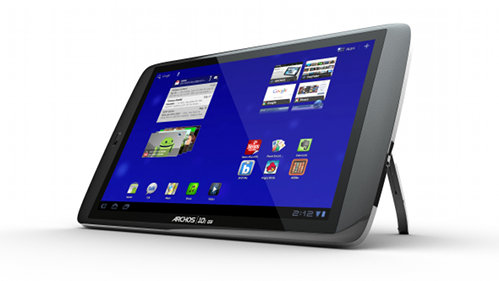 The Archos 101 G9 is no iPad in looks or build quality. It's made of fairly flimsy plastic and feels cheap. But when you're paying half the price of an iPad, you have to tolerate the odd compromise. And although it might be plasticky, the Archos case has some nice touches.
The screen is responsive to touches and swipes, there's a built in slot to add an optional 3G data card (to get online via a mobile phone network), and the convenient fold-out stand props the tablet up at the right angle to read or watch. It sounds like a small thing but it makes a real difference to this tablet's usefulness.
Sure, the charging cable is far too short (would it have killed them to make it just a bit longer?), but the battery lasts well and the screen is fairly crisp, if lacking in contrast. Maybe most importantly, this tablet has reasonable power. With a proper dual-core processor, it runs the latest version of Google's Android operating system, allowing you to access loads of different apps and they'll run at a decent speed.
We did run into some quirks with the standard web browser. Tapping links didn't always seem to register first time and there were a few stutters and judders that might put you off if you're used to a smooth iPad.
In all, this is a capable tablet for the money. Although its features are geared more towards home than business users (Archos bill it as an 'amazing multimedia' machine for photos, videos and music), there's no reason you can't use it for email, documents and more.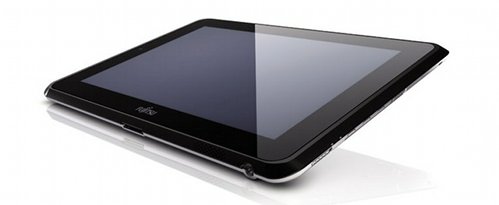 Not to be confused with this Philadelphia soul group, and quite in contrast to the Archos, the Stylistic Q550 feels really solid. Fujitsu is clear that this tablet is for business users and has included a full-blown version of Windows 7, enabling you to run the exact same software as on any other Windows PC. That means no cut-down apps and no nightmares trying to view websites in an awkward mobile browser.
It also means the Fujitsu should easily integrate into your existing network without compromising security or compatibility. Further boosting its security credentials is built-in encryption and a fingerprint reader, although we've yet to come across anyone who actually uses the latter.
Other notable features include excellent connectivity (there's USB, HDMI for an external display, an SD memory card slot and more), front and back cameras and a stylus, which is basically a pen you can 'write' on the bright, crisp screen with. This is attached to the tablet by a cord, but frustratingly there's nowhere to tuck it when you're not using it. It also requires an oddly-sized AAAA battery (no, that's not a typo).
The stylus adds an interesting dimension. It's fantastically helpful if you're doing jobs that require pinpoint accuracy, like editing photos. But in other circumstances it doesn't offer many advantages over your fingers. We can see how it'll serve a niche market well. But for most people, the stylus will be superfluous.
More useful is wireless USB. Not yet available on many tablets, it lets you connect to compatible devices wirelessly. It's ideal for giving presentations without having to plug anything in.
This tablet takes a while to start up but once it's going performance is reasonable, especially as you're running demanding Windows software. Strangely, there's no sensor to rotate the display, so Fujitsu has included a button to do this manually. There's also a button for classic Windows key combination 'CTRL-ALT-DEL', which hardly inspires confidence in the operating system's stability.
Value for money trumps unnecessary features
It's true these two tablets aren't direct competitors, but while we warmed to the Archos for its excellent value for money, we found the Fujitsu harder to like. If you're looking for a really portable Windows computer, you could add a dock, keyboard and display and it might do nicely. But as a tablet, it's flawed: unless you really need the stylus or strong security tools, you'd be better off with an iPad.
Where to buy tablet computers
More content on tablets: