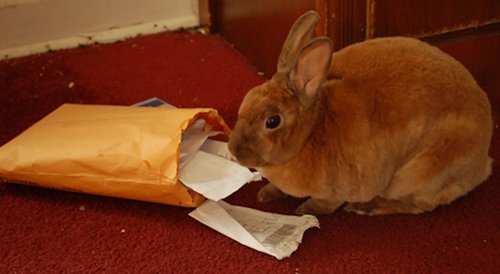 How not to look after your receipts (Image: Flickr user Carly & Art under Creative Commons.)
Maintaining financial records can be tricky for the smallest businesses, like sole traders and companies below the VAT threshold. There's a temptation to simply bumble through and hope you don't miss anything.
The inevitable result is that your tax return is painful. You spend about three days hunting for paperwork that hasn't been eaten. Then you sheepishly give your accountant a shoebox full of crumpled, illegible receipts and politely ask them to sort it all out.
It costs you in time, in accounting fees and in expenses you failed to claim back because you've lost the receipts or forgotten about them.
Do little and often
Like most things, keeping up with your accounts is easiest if you do it little and often. Don't wait till the end of the month to record all your expenses - do them every week, or every day.
And that's why it's interesting that, buried away on the HMRC website in the 'support for software developers' section (yep, I bet you've checked that page recently), is a handy list of five mobile apps designed to help smaller businesses keep good records.
Using a mobile app makes sense. You'll always have your phone with you, so it's a good tool for noting down expenses, payments and so on. You can even photograph receipts with your phone's camera.
Here are the five apps listed on the HMRC website that could make your record keeping a little easier. Most are from established accounting software firms, so if you already use accounting software it's probably a good idea to try the matching app first.
For iPhone and iPad:
Intuit MyBizTracker. This app from the makers of QuickBooks lets you record income and expenses so you can check your position at a glance. You can also snap a photo of receipts with your phone's camera, to save with the other details.
More about MyBizTracker >>
Sage Record Keeper. This app is from the makers of the comprehensive Sage accounting software. It offers similar functions to MyBizTracker, but can also handle CIS deductions (which only apply to businesses in the construction sector).
More about Record Keeper >>
Earnest. With similar photo functions to the other apps, the main difference with Earnest seems to be that it'll give you a rough idea of your tax liability at any moments. It's from the people who make FreeAgent accounting software.
More about Earnest >>
For Android devices:
Forbes Record Keeper. Scant information is available from the 1999-style Forbes Computer Systems site. But this app is similar again, although its ability to send data to a Dropbox account might be useful if you use the online backup service.
As all these apps are free, the best way to figure out if they work for you is probably just to try them. Let us know how you get on! You can see the list on the HMRC website too.