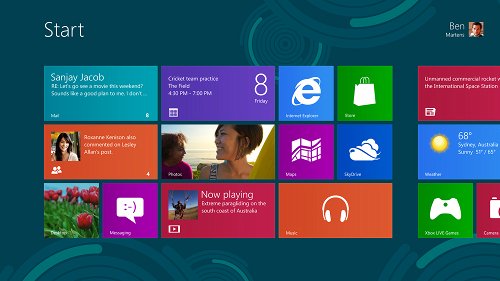 The new Windows 8 interface (Image: Microsoft).
Recent years have seen an explosion of new mobile devices, laptops and tablets - plus the emergence of new social media platforms and cloud computing services.
The result? Companies of all sizes are under pressure to integrate these devices into everyday working life.
With Windows 8 now available in the UK, companies face a new dilemma. Should they upgrade their existing devices to this latest Microsoft operating system?
Well, it's just like any other technology. You need to ask one key question before making any investment: how will it benefit my business?
Windows 8 flexibility
Windows 8 has been designed to support a more flexible way of working. This makes it an attractive proposition to small companies as they will be able to move between working on conventional PCs, tablets and mobile devices - and back again - without interrupting their workflow.
It's geared towards empowering users of touch devices and will ensure that tablets and portable connected devices are truly viable business tools.
In addition, businesses are realising that the bring your own device (BYOD) phenomenon is more than just a passing trend. According to recent research from Dell and Intel into the evolving workforce, 76% of small businesses are already implementing flexible working and 40% of employees have the opportunity to bring their own device to work.
Windows To Go
Windows 8 includes a new Windows To Go feature that can be extremely useful for small companies. It allows you to start Windows from a USB stick or other external storage device, like an external hard drive.
Essentially, it lets you take your desktop with you. When you boot it up - on any PC - you see a direct reflection of your business desktop, with access to the same Windows 8 account, apps and files.
It's perfect for small businesses whose employees have to travel a lot, and means you don't have to go through the hassle of setting up a virtual private network (VPN).
Security and support
Data is the lifeblood of every company, and the level of security in any new software is always a key consideration for businesses. Windows 8 now includes anti-malware protection that's wired into the operating system.
This new Secure Boot Technology guards the device from the moment it switches on, protecting against unauthorised operating systems and pre-boot attacks.
To upgrade or to wait?
While new technology will continue to emerge, the most intelligent strategies for business are the ones that are sympathetic to the needs of both the workforce and organisation. Usually, you want to achieve productivity gains.
Whether you decide to upgrade to Windows 8 now, wait until it's more widely adopted or decide not to switch at all, it's worth reviewing and considering before you make a decision about what it could bring your business now and in the future.
Andrew Miller is a technology marketing consultant at Dell.