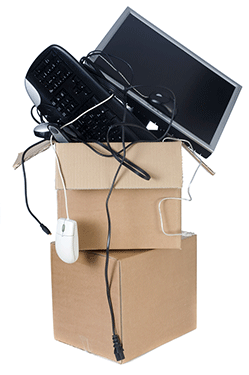 Moving office is a time of excitement and stress. When you move office, you have to keep working up to the day of the move. Then you move. And then you need to get up and running again with as little disruption as possible, so you can get back to earning money.
This is a real challenge for many smaller businesses. Often they lack the skills they need to manage an office relocation project smoothly.
You need it by when?
A meeting I had a couple of weeks ago is an excellent example of this. It was with a potential client who was refurbishing their office. They needed to add equipment to their existing cabled network.
When we arrived, it was clear work was well underway at their offices. Workmen were installing partitions and laying floors.
On speaking to the client, it became clear they needed the existing cabling sorted immediately, plus some telephone lines, a broadband connection, Wi-Fi and new computers.
"What are your timescales?" I asked.
"We need to be working here in two weeks," was the client's response.
I looked at him, hoping that he'd got the dates wrong in his head. He hadn't.
When you order new telephone lines from BT, it takes at least ten days to get them installed, then you have to wait another couple of days to get the broadband connection activated. Only then can you connect everything up and make sure it all works.
As I explained this to the client, it was interesting to see how his expression changed as he realised they'd started to refurbish the office without giving any consideration to moving the IT and telecoms.
This happens all the time
I've had so many similar conversations with clients that it no longer surprises me when this happens.
My personal take on this situation is that as technology has got simpler, people seem to take it for granted. They forget that a lot of thought, consideration and planning goes into the best business IT systems.
Consider the future
It's also important to think about your IT and telecoms services in the wider context of your business growth. For instance, how many network points do you need in your office?
Many businesses simply install one per person. But they forget that person may need a computer, desk phone and printer (that's three network points), and don't consider what will happen when they take on additional staff.
Network cabling and points are cheap, so the main cost involved in installing cables is the labour of the people doing it. This means it's cheaper to get 20 extra points added when you first install your cabling, rather than to add 20 points a year later.
Check broadband availability
Another trend I'm seeing is the assumption that broadband is available at good speeds pretty much everywhere. This is absolutely not true, and can really catch you out if you don't do your homework before moving offices.
Always, always look at the local broadband situation before choosing your new office location. A client recently moved from a Surrey town centre where he got fast, 12Mb broadband to a rural location where the maximum connection speed is 2Mb.
Unfortunately, they only realised this after they'd signed the lease to move.
If you need another example, look to a popular business park in south Birmingham. Because it was never wired up with BT telephone cables, the only internet connection available on the site is via a leased line. Very fast and very reliable, but also super-expensive, at about £1,000 a month!
Broadband guide site thinkbroadband has a good coverage map. You can also get an idea of broadband availability and speeds from the Sam Knows broadband checker (just put in the postcode of your new office).
You must plan ahead
Moving office is a stressful time. There is lots to consider, but do not overlook your IT and telecoms systems.
This often happens in smaller companies because there is no single person – let alone a whole department – with the skills and experience to understand everything that needs going.
This is where it can help to turn to a separate IT supplier. Look for one with experience of relocating companies in the past, and make sure they have a range of partners to cover things like phone lines and cabling.
 Craig Sharp is the MD of Abussi IT, who provide small business IT support in Birmingham.