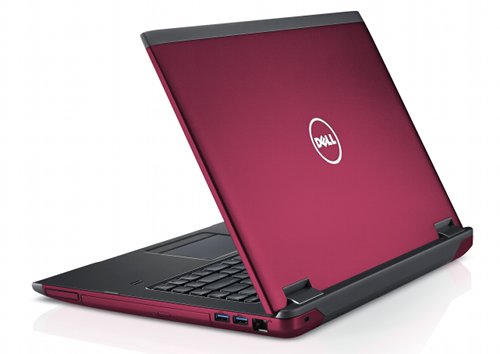 Dell's Vostro range of laptop and desktop computers is aimed specifically at smaller businesses. We got our hands on the company's 15" Vostro 3560 laptop, and tried using it day-to-day in our company. Read on to see what we thought.
Design, size and weight
The Vostro 3560 has a pleasing appearance and a sleek, classy look to it. As with many laptops, the outside of the case is made of metallic-effect plastic. We'd prefer it to be actual metal, but that was probably outside Dell's budget.
Having said that, it looks and feels solid. The matte grey plastic around the screen is a little thicker than we'd like, but the overall effect is great.
At 2.57kg, the Vostro weighs about average for a laptop of this size. It's fine for mobile working now and again, even though it's not super-light.
The keyboard is well-spaced, making it harder to hit the wrong keys, even if you have sausage fingers. It has a positive action and is nice and quiet, so you can type for extended spells without having to connect an external keyboard.
In line with recent trends, there's a nice large trackpad with two wide buttons. You can scroll using two fingers on the trackpad, rather than having to click and drag scroll bars on screen.
Display
The 15.6" display is bright, and lacks a glossy coating, which makes it well-suited to use under bright lights. You can see the screen clearly from a wide viewing angle, so this could be a good laptop for giving ad-hoc presentations in meetings.
The version we tested had a crisp, clear full-HD screen, so you can watch HD video on it at the full resolution. It's also available with a lower-resolution screen.
Performance
The Vostro 3560 we tested had an Intel i5 processor. It was well up to anything we threw at it during day-to-day business use. It's well-suited to running apps like Microsoft Word and Outlook, or running several programs at once.
We tested it using Windows 7, which loaded in under 30 seconds. The 3560 now ships with Windows 8.
The model we tested had an optional dedicated graphics card. This makes a big difference to the graphics performance and is a good option if you want to play games or run graphics-intensive software like Photoshop.
It's worth noting that the base level model only comes with 2GB (gigabytes) of RAM, which is borderline adequate nowadays. You can upgrade after buying, or opt for a model with 4GB, 6GB or 8GB instead.
Storage and connections
Even the entry-level Vostro 3560 comes with a 320GB (gigabyte) hard drive, which should provide more than enough storage for general business use. There's also a built-in DVD writer, so you can read and burn DVDs easily.
There are a generous 4 USB connections, all of which are the fastest USB3 type, so they can transfer data nice and quickly. The connectors are close together, which means a chunky memory stick or mobile broadband dongle can block the adjacent ports.
You can also connect external displays or a projector via VGA and HDMI ports.
Vostro 3560 conclusions
We really enjoyed using the Vostro 3560 for a few days. It has a classy, solid feel that belies its price, and it's more than capable in a business context.
True, it's not incredibly light, and it lacks the touch screen features appearing on other laptops. However, performance is good, the screen is excellent and with an entry-level price of £299 (plus VAT and shipping), it represents great value for money.