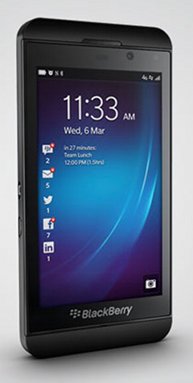 It's make or break time for RIM, manufacturer of the BlackBerry.
Once dominant in the world of business smart phones, the BlackBerry's market share has been steadily eroded by Apple's iPhone and Android handsets from the likes of Samsung and HTC.
But now RIM is fighting back with the BlackBerry Z10, which looks like ... well, it looks like every other smart phone that's hit the market in recent years.
It's a black slab with a big touch screen. Original.
The BlackBerry Z10 does personal too
There are lots of reviews that'll tell you about the BlackBerry Z10's tech specs and performance. Check engadget, TechCrunch and The Telegraph. Overall, it seems like a decent handset.
But there's one feature that sets the BlackBerry Z10 apart from its competitors. It's called Balance. According to RIM, it's the 'simplest and most user-friendly way to balance your personal and work life on a single device.'
Balance means that instead of carrying two phones (one for work and one for business), the BlackBerry Z10 can do both. It keeps company data secure and separate from personal photos, games and other distractions. You switch between the two modes by swiping the screen.
Will BlackBerry Z10 work with BYOD?
While Balance sounds like a really useful feature, for your business to take advantage of it you need to have bought into the BlackBerry platform, and be using BlackBerry Enterprise Server.
And that's where the BlackBerry Z10 is going to hit problems for smaller companies. The current trend is to bring your own device (BYOD) and give staff incentives to use their own smart phones for work.
There's no point in going to the trouble of implementing Balance if only a few staff members have chosen to buy the Z10.
Does that means the BlackBerry Z10 is set to fail? Not necessarily. It's just that the strings attached to Balance make that particular feature less useful for companies that don't have the budget to buy a phone for every employee and set up a BlackBerry-based infrastructure.
What's left is still a very capable smart phone. But given the dominance of Apple and Android, is that enough?