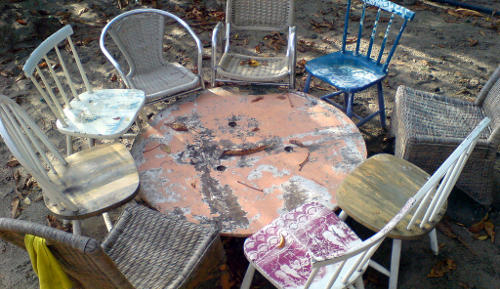 Can you get everyone around the same table? (Image: Arne Hendricks on Flickr.)
There's a complete abundance of online tools to make collaboration easier, even when the people you're collaborating with are based in different locations.
In fact, there are so many collaboration tools available - both free and paid-for - that it's hard to settle on one that's right for you and your colleagues. To help you find a tool that works for you, here are some of the best on the market:
1. Trello
Trello allows teams to manage projects through a system of 'cards' that convey different ideas and concepts.
Extremely efficient, it's simple to navigate with a clear, logical interface. You can log in to Trello through your web browser, or download apps for Android and Apple mobile devices.
2. Huddle
Huddle was founded in London, and this service allows you to send and share files quickly and easily, logging details and keeping projects organised.
It's a highly efficient collaboration tool which allows your team to manage everything across a series of 'whiteboards' where everyone can see what's going on. The free version of Huddle is rather limited, so you'll need a paid-for package for anything more than basic functions.
3. MindMeister
MindMeister works on the basis of mind-mapping, adopting a visually-driven approach to collaboration. Your team can share their thoughts in a collaborative and visually stimulating manner across a number of 'whiteboards'.
There's a good mobile app for MindMeister too, which is helpful when ideas creep up on you while out and about. You have to use the paid package in order to get a version of MindMeister you can use without internet access, but even the free version has a lot to offer.
Learn more about MindMeister >>
4. Sync.in
With a highly intuitive interface, Sync.in manages to be simple to navigate whilst also providing advanced functions. You can manage projects across various social media outlets, and sharing is quick and easy.
Sync.in tends to be text-driven, and there are no visual tools whatsoever. Still, that means it's focused, driving projects forward along a single track.
5. Basecamp
Basecamp is one of the most well-respected collaboration tools out there. With an intuitive dashboard, it's an effective management system that operates through emails and can also connect to a number of external technologies.
It's a good beginner's tool because it's simple, but it has deep technical features that you can explore as you get to grips with it. The downside? Many of the extra features come at a price, leaving you with minimal resources initially.
6. Skype
Skype might have started out as a tool for socialising, but these days many businesses find it essential for discussions and collaboration.
You can talk face-to-face via webcams, allowing for easy sharing of ideas when back-and-forth messages won't cut it. It might be no good for document sharing or project management, but it's perfect for instant messaging and voice chats. (It's also a cheap way to get a landline number.)
Do you rely on a collaboration tool that isn't listed here? Leave a comment to let us know about it.
This article was written by Alexa Garthwaite, Business Development Manager at Executive Offices, who offer virtual offices, serviced offices and meeting room hire in prestigious locations across the UK.