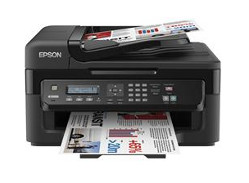 If you need a cheap, capable way to print and scan in your office, this Epson Workforce WF-2520NF 4-in-1 inkjet printer may fit the bill.
As it's an inkjet printer, it's probably best-suited to relatively low-volume printing. However, it's a decent model from a reputable manufacturer, and as it's currently available to buy online for just £55 from Dabs.
Useful features include:
Built-in network connection, so you can plug it straight into your existing network and share the printer easily.
30-sheet automatic document feeder, enabling it to automatically scan documents without you having to feed each page in manually.
Built-in fax functions, just in case you ever need to send or receive a fax.
Reviews suggest print quality is decent and extra-large ink cartridges are available, which should reduce your running costs a bit and mean you don't have to replace them so frequently.
This printer is also available from Amazon (£55.97), eBuyer (£82.78) and Misco (£87.60).