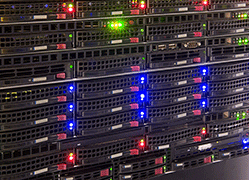 Colocation. Sure, it's an unfortunate term that sounds a bit like one of those painful body cleansing treatments you get in health clubs.
However, if you run a new or small business, it's actually something that can really help your company.
What is colocation?
Colocation is just like web hosting. The only difference is that rather than your data living on a server owned by the web hosting company, it lives on a server that you own.
The physical server belongs to you, but it lives in a datacentre owned by your colocation provider.
A datacentre is a special building designed to keep servers safe, sound and running 24 hours a day.
You use the colocation provider's building, internet bandwidth and electricity. But you own the server that holds your data.
Colocation is more expensive than standard web hosting, but costs less than doing everything yourself. It's also sometimes called 'colo', 'co-lo' or 'CoLo'.
Why use colocation?
Colocation offers smaller businesses the benefits of a large, well-resourced IT department, but without the large costs:
Get more bandwidth for your buck. For instance, if you need to stream video from your server then you can do so for a relatively small cost.
Improve your cash flow. You only pay as you go, and usually only for what you need.
Get better protection and security. Because your server will be kept in a proper data centre (not in a corner of your office), you get redundant power supplies, firewalls and other extras to keep your server running.
You retain control. You're just paying for space in the data centre, but you keep full control over your server and can use it however you wish.
It's easy to move. If your business moves premises, you don't have to figure out how to take your server with you. It stays in the data centre.
For smaller companies that don't have much of their own IT infrastructure, colocation helps you compete with larger businesses on a level playing field.
So, what's not to like?
One of the biggest problems with colocation is that it can be quite hard to find providers, especially outside cities. And even if you do, you need to consider:
Physical access to your server. This is likely to be only available during the provider's office hours.
Cost. Colocation certainly costs more than basic web hosting. You can also end up paying a different amount each month, depending on how much bandwidth you use.
Upgrades and maintenance. You have to do this all yourself. Although you're renting space from your supplier, the server is your responsibility. (If you're not confident, managed hosting might be more suitable.)
It's true that colocation isn't for everyone. But for smaller businesses that have a modicum of IT expertise in-house, it can be a good way to gain access to the kinds of IT services that have previously been the preserve of larger organisations.
This is a post from Albie Attias of King of Servers, an IT hardware supplier specialising in servers and networking.