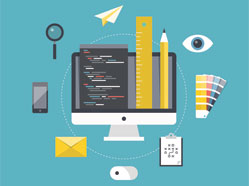 IT for Donuts is our regular feature where we explain a tech term or answer a question about business IT.
If you're redesigning your website, you need some inspiration. And if you're working with a web designer or agency, they're likely to ask what sort of sites you like.
To help you get ideas, here are five sources of web design inspiration:
1. Behance
If you're a web designer, you'll already know that this is one of the obvious candidates. Behance is a giant portfolio website, full of work from web designers all over the world. You can spend hours exploring it, using powerful search tools to find ideas of interest.
2. Little Big Details
Little Big Details is all about the little touches and subtle polish that help make a website truly engaging and memorable. It showcases animations that make you chuckle, messages that make things easier for users, and other little details that contribute to the overall experience of a website.
3. GoodUI
GoodUI is a little different from the other sites in this list. It's not really about how your website looks, but is full of great ideas that can make your website easier to use and more successful. If you want to increase your conversion rate, there are loads of ideas here.
4. Media Queries
Sorry to get technical, but media queries are a way of using cascading style sheets (CSS) to make your website look different on different screen sizes.
You probably don't need to know how all that works. However, the knowledge may help you understand why the Media Queries website is full of examples of sites that use responsive web design to adapt to different screen sizes.
5. siteInspire
siteInspire is a showcase of great web and interactive design. The site claims to contain over 2,500 searchable examples of beautiful, clever and usable websites. It's certainly a great place to look for the inspiration for your own site.