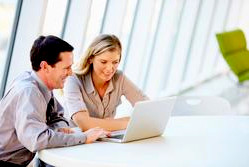 Windows 10 has been available for five months now - which means a lot of the kinks and bugs have been smoothed out. So now's the time for businesses to see what Microsoft's newest OS iteration has to offer.
1: Usability
Microsoft dropped the ball somewhat with Windows 8 but it has redeemed itself with the release of Windows 10. Various features have been improved and have been designed for normal users, not least the return of the classic Start Menu, which many Windows users had missed.
Another feature that has been upgraded is virtual desktops, a feature providing opportunities to manage different projects on the go, without cluttering up the traditional desktop.
2: Security
With Windows 10, Microsoft has introduced multi-factor authentication, based on standards laid out by the FIDO (Fast IDentity Online) Alliance. Biometric authentication has also been added in the form of the Windows Hello and Passport features, using facial recognition, iris or fingerprint analysis. Passport relies on similar security measures, but allows you to access some services without using a password, such as email, social networks and ecommerce pages.
3: Consistent experience across devices
Microsoft's software has felt confused since Windows 8, with its focus on tablet usability, reducing efficiency for desktop users dramatically. Windows 10 has remedied this, giving both desktop and mobile users a consistent and enjoyable experience across devices. This is further enhanced by the introduction of universal Windows Apps that work across all devices, including Mail, Calendar, Photos and Videos.
4: Microsoft Edge web browser
We've seen the slow and steady decline of Internet Explorer. Now Microsoft has developed a new browser called Edge that promises minimalistic design with plenty of functionality.
Features such as annotation, saving and sharing of web pages will be a handy tool for companies that share information and resources, as well as being useful for web designers for editing web pages.
There's also a reading mode that eliminates ads, which allows the user to store and save articles for offline reading later on.
In addition, Edge boasts strong security features in comparison to its predecessor. Microsoft has also ensured that each web page loaded is processed in an app container, a client-side sandbox, minimising the risk of malware.
5: Cortana
Cortana has been seen as something of a gimmick. However, business users have welcomed Cortana's ability to help users find documents and to make notes and reminders. Let's face it, finding files can be a chore. Having a voice-assistant on hand to help you locate files is a real bonus.
Cortana isn't difficult to use either; unlike other voice-operated assistants, there's no need to use a robotic voice. Also, Cortana won't prevent you from typing or using the mouse, so you can use it to find files or ask for information without having to stop what you're already doing.
So - should your company upgrade?
If better and more streamlined security, enhanced user features and consistent experiences across devices appeal to you, then Windows 10 is well worth looking at.
It offers several editions, with the Home and Pro editions being suitable for home users and small businesses respectively. Alternatively, Windows 10 Enterprise is aimed at businesses of all sizes.
Author Ben Palmer-Wilson is a freelance copywriter.
© Atom Content Marketing 2016