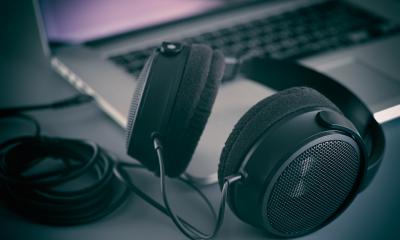 Incorporating audio and video when you create a website can help promote your business and support your customers - and you can get started on a remarkably small budget.
How to use audio and video
There are lots of ways to use audio and video online. For instance:
show off your products with video demonstrations;
film a welcome message from someone in your company;
create video showing how customers use your products;
build support guides to help people use your services;
record a regular audio podcast about your industry.
Make sure audio and video really add something to the experience of using your site.For instance, background music is a big no-no. Not only can it be irritating, but it can make it harder for some people to use your website.
However, a demonstration video that visitors can choose to watch may be a good way to present product information.
Adding audio and video to your website
To incorporate audio or video into your website, you first have to upload the audio or video file in question to the internet. Some types of web hosting will allow you to do this. Alternatively, you can use a service like YouTube or Vimeo (for video) or SoundCloud (for audio).
Once you've uploaded the video or audio, you can 'embed it' in pages of your website. This means putting a link to the video or audio file into the HTML code that makes up the web page.
Doing this is usually easier than it sounds. Services like YouTube and SoundCloud give you the HTML code so all you have to do is copy and paste it into your page.
Or if your website was built with website building software, you'll often find it has an option to insert audio or video, so you don't have to touch the HTML code at all.
If embedded correctly, visitors to your website should see a space on the page with a 'play' button, so they can play the audio or video.
Other options may be to play it automatically once the page has loaded (although this can cause annoyance), or to make your audio or video available to download (a good idea if you want to encourage people to watch or listen on their mobile phone or iPod).
Digital audio and web video production
You might be surprised at how little audio and video equipment you need to create web audio and business video. For audio, you can get away with:
A decent microphone connected to a computer. Audio Technica makes good microphones for under £100.
A pop screen, which sits between you and the microphone to reduce or eliminate popping sounds as you record. These cost around £10 - £20.
Good headphones, so you can hear the detail when playing back recordings. Sennheiser have a range of good headphones. Look for closed-back headphones, because these block background noises more effectively.
Audio software to record, edit and output the audio.
Budget at least £150 to cover the microphone and headphones. Audio recording and editing software can be found for free - Audacity is an excellent choice.
If you prefer, you can also buy podcasting kits, which offer everything you need. These are usually available for £150 or so.
To film and edit video, you'll need some extra equipment:
A digital video camera, although your mobile phone may be adequate.
A tripod - essential if you don't want your video to look amateurish.
Video software, so you can process footage after filming.
Business video and audio: the professional edge
Getting voiceovers right and presenting on video can be difficult, so you can employ a freelance presenter or voiceover artist. This won't be cheap (count on at least £30+ per hour), but can give your materials real shine.
Try searching online for presenters and agencies in your area.
Similarly, professional sound and video editors can work wonders with your recordings, creating just the effect you want.
If you'd prefer somebody else to handle the whole project, most web design agencies should be able to produce web-ready video and audio for you.
Publishing website audio and video
There are two ways people can access your video and audio:
Streaming. This means video or audio starts playing before the whole file has downloaded. Most online video and audio is streamed, so it can start playing almost immediately. Streaming requires a fast connection.
Downloading. This requires your visitors to download the entire file before they play it. It's good for slow connections. Downloads are commonly used for podcasts, so the file can be copied to a portable music player.
Clearance and copyright
Get permission to use all the sound and visual elements that feature in your business video or audio. Consider getting a release form signed by anyone in the recordings.
To avoid copyright issues, you can purchase video and audio clips to use. Companies like Shutterstock and iStockPhoto offer short video and audio clips from around £1 up.